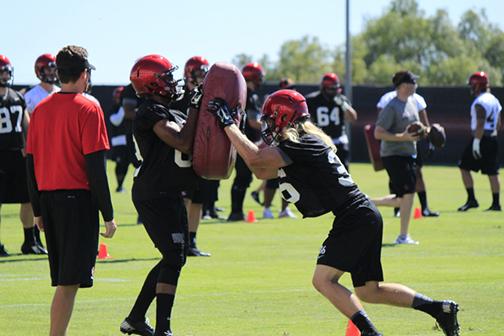 San Diego State's football team finished its first week of practice by frustrating head coach Rocky Long.
"We don't do anything right," Long said following Wednesday's practice.
Long's frustration followed a practice so sloppy Long repeatedly threatened to extend it.
Poor conditioning is partly to blame for practices not meeting the expectations of a team predicted to compete for the Mountain West crown.
"In the off-season—when they run—they always run at six o'clock in the morning," Long said. "None of them are used to practicing in the heat of the day."
Long's practices are two hours long and in the afternoon, when temperatures near 90 degrees on campus.
"I would guess by the middle of next week they'll get used to it and it won't be a problem," Long said.
This is Long's fourth year of running training camp, which adds to the frustration factor shared by Long's staff. His up-tempo practice style shouldn't throw off a team that features 10 returning starters.
Positional battles unsettled
The first week of practice didn't solve positional needs that Long identified at a pre-camp press conference on Aug. 1. Those positions are: all the safety positions, including the three starters; backup running back; and backup quarterback.
By Thursday, Long wondered if his starting quarterback was ready. Long's consternation grew as he watched senior Quinn Kaehler routinely throwing wide of his targets.
"I'm not even sure we have a starter after watching him," Long said.
Since Kaehler's starting job is all but assured, Long spoke from frustration borne from watching three mediocre practices. Finding a backup is important, though, given that Kaehler became the starter after replacing a quarterback with turnover tendencies of his own.
That backup job is heading down to three players: junior Brad Odeman, redshirt freshman Chase Favreau and pure freshman Nick Bawden.
All three possess arms stronger than Quinn's, while Favreau also adds speed to the mix. Favreau struggles with control, looking sharp on Wednesday only. He'll be out of the battle if he doesn't rebound soon.
The starting safety jobs appear set following Saturday's practice. Sophomores Malik Smith and Na'im McGee, and freshman Trey Lomax look the sharpest both during drills and in modified scrimmages.
As for the depth chart, it's anyone's guess. At times the safeties look all-world, locking down the team's wide receivers during mock scrimmages. But at other times they look slow, surrendering long gains.
For the running back position, the battle for the job behind sophomore Donnel Pumphrey is down to junior Chase Price and redshirt freshman Marcus Stamps. Price is faster, but Stamps adds power to an offense needing size and strength.
Even the starting running back has become somewhat of a concern. Pumphrey's 5-foot 9-inch, 175-pound frame worries coaches about his durability.
"He can't carry the ball 40 times a game," Long said.
Coaches resume evaluations on Monday. San Diegans get their first look on Saturday, Aug. 16 at the annual Aztec Fan Fest at Qualcomm Stadium. Entrance to the festival begins at noon. Admission is free.