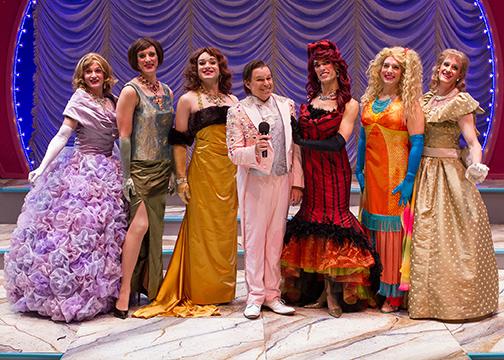 Courtesy of Darren Scott
"Pageant" could be considered a hard musical comedy to pull off. The story needs a director who can handle camp and satire, as well as an ensemble that requires every performer to bring the funny. The good news is that director/choreographer James Vasquez makes the Cygnet Theatre's production a frequently hysterical one with many memorable jokes.
Six women compete in a beauty pageant for the title of Miss Glamouresse. The twist is that the contestants (wearing costumes from San Diego State alumnus Shirley Pierson) are men in drag. Several members of the audience are asked to vote for their favorite participant, which means that there is a new winner during each performance.
The beauty contest theatrical piece has a Christopher Guest-esque vibe. Similar to Guest's satirical movies, Bill Russell and Frank Kelly's book spoof a popular event without ever explicitly criticizing its appeal. This allows the humor to work with both people who love watching pageants on television and those that despise these types of extravaganzas.
The intentionally cheesy tunes, written by Russell and Kelly with music from Albert Evans, are treated like live songs and not musical numbers. Prerecorded melodies, under the music direction of Don LeMaster, are catchy in a guilty-pleasure kind of way.
SDSU alumnus Matt Lescault-Wood's sound design early on makes some of the lyrics hard to understand. It eventually blends in well with the rest of this rendition. His clear audio comes into play most effectively during an uproarious climax that will not be revealed in this review.
Phil Johnson leads the cast as the host of the evening, Frankie Cavalier. He provides plenty of jokes playing the kind of entertainer whose sense of humor is corny yet oddly appealing.
The participants of the pageant, which include David McBean, Luke Harvey Jacobs, Conor Tibbs and Max Cadillac have at least a couple of moments in the spotlight. Each actor deserves credit for getting maximum laughs from their major scenes.
Having acted in and co-directed previous interpretations of "Pageant," Vasquez practically knows the material inside and out. He is perfectly comfortable staging a hokey dance routine or the many tongue-in-cheek sequences where the ladies promote products from the fictional Glamouresse cosmetics company.
With help from SDSU alums, set designer Sean Fanning, lighting designer Michelle Caron, and wig and makeup design by SDSU adjunct faculty Peter Herman, "Pageant" is a parody that hits the bull's-eye. Get ready for a wild night with the "girls."