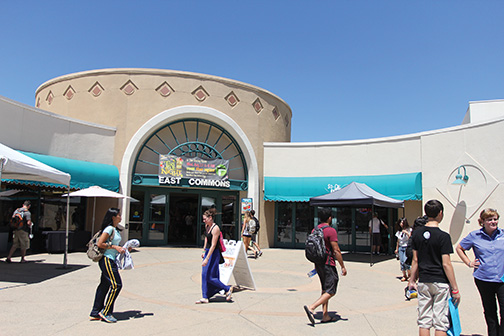 Here at San Diego State, freshmen have quite a few restaurant options on the meal plan, which can be quite overwhelming when you're new to campus. There are so many choices it's hard to figure out what your best options are. That's where I come in. As a sophomore, I've already had a year to explore all the dining options on campus and can now share the knowledge I have acquired with the incoming freshmen. These are some of the best places to get food without having to spend any money out of pocket.
Last year, University Towers Kitchen opened. It was the first of many additions to the meal plan and it was a great one. Not only did it finally give the residents of UT a close place to eat, but it also gave the other freshmen an option other than fast food or Cuicacalli. Its gourmet food got everyone's mouths watering and made them wish they lived in UT more than they already had before. UT Kitchen, while farther from campus than some would like, gave freshmen an option to eat healthier. It offers dinner entrees such as salmon and Angus burgers, as well as a variety of salads. I would definitely recommend you stop by for dinner sometime soon.
Unlike UT Kitchen, Olive Oil Cafe has been around for a few years now. Located in West Commons, this sandwich shop is like a higher-class Subway. Its sandwiches are incredible and really healthy too. There are many different options to choose from, and you get to customize any of the classics or make your own creation. The cafe even has some gluten-free options and delicious pastries. I would definitely recommend the Atomic Grilled Cheese sandwich the next time you're in the area and hungry.
New to campus and to meal plans this year are Oggi's Pizza & Brewing Co. and  Bruxie Gourmet Waffle Sandwiches. Both new restaurants are on the nicer end of the spectrum and I honestly wouldn't consider either one as fast food. Oggi's offers much more than just its traditional pizza, which is already a step up from a lot of the food places on campus, and Bruxie is known for its fabulous waffles. I've gotten the opportunity to try both and loved them. At Oggi's you have the option to create your own pizza, right down to the type of dough they use. It makes for a delicious meal that may even leave you some leftovers. Bruxie has many entree options, as well as some shakes and floats you can indulge on. From plain waffles to its famous waffle sandwiches, there is no way you can go wrong. Either of these new meal plan additions would be wonderful choices.
Most SDSU students wouldn't think to put the Cuic dining hall as one of their top choices of campus food places, but it truly is a great place to eat if you know the right time to go. The Dining Room, the official name that almost no one knows, is basically a buffet with not that many options. Even though it may not be your best option, there are times that you'll go and actually get a lot out of your visit.
Pizza Bar, for example, is a must on your list of things to try. The schedule changes every so often, but as of right now, Pizza Bar is offered on Tuesdays at lunch and Thursdays for dinner. Pizza Bar is my personal favorite, but there's also the Omelet Bar every morning for breakfast, which makes for a great start to your day. So don't pass up Cuic, just figure out the best time to go.