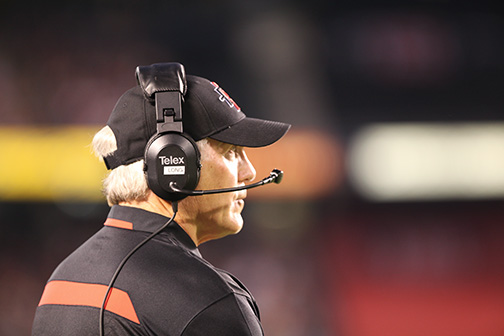 File Photo
Late Thursday night, San Diego State head football coach Rocky Long stepped further into the media spotlight when Fox Sports San Diego launched "Aztec Football with Rocky Long." The show was solid, even as it fumbled away a quick-strike opportunity.
Choosing the often-irascible Long to kick off FSSD's Aztecs athletics lineup is smart. While basketball rules SDSU, the difference between basketball coach Steve Fisher's listless press conferences and Long's is similar to the difference between football and futbol. Long's availability not only is the next step in legacy building, it comes at a fortuitous time for mid-market programs.
Mid-major SDSU is fortunate to have Long coach a football team struggling for recognition in its hometown, just as its conference struggles for survival after U.S. courts continually side with student athletes. If SDSU wants to avoid the football-revenue plight imperiling Mountain West cohort University of Hawaii, it needs fans filling seats and eyeballs ogling TV sets now.
FSSD is fortunate because Long speaks without a filter. His mouth is the anti-Instagram. Ask the right question and watch in awe as Long threatens to pull scholarships for underperforming players and, with a devilish twinkle in his eyes, declares that SDSU is better off not playing Power Five programs because those programs need SDSU more than SDSU needs them.
However, that version of Long wasn't present during the premiere. Host Kris Budden and analyst Kevin O'Connell traded the opportunity for a John Oliver-esque viral rant for middle-of-the-road professionalism. I understand using that approach, even as I lament the missed opportunity to have a segment rise into the zeitgeist. It's perhaps better to get Long out of the hanger safely rather than set the show on fire before an audience is built.
As for that audience, "Aztecs Football for Rocky Long" isn't for Aztecs die-hards who sleep with depth charts and ponder which SDSU jersey to wear on game day. Instead, it's for the average San Diego sports fan who thinks SDSU is a basketball factory only. That fan needs to be courted because SDSU football can't continue without increased support.
Speaking of support, it'll be interesting to see what level of access Long allows his new media home. Long's show needs fresh faces, and learning how a play either succeeds or fails directly from the player responsible is both necessary and compelling.
But can FSSD convince Long to hand over his kicker after a missed field goal turns victory into defeat? After all, anyone attending practices knows that Long bestows access begrudgingly. Criticizing college athletes is always problematic, but putting a young adult in front of hot lights prepares them for real world scrutiny.
Players who did appear in Thursday's show played it straight. Long's opening comments expressed that winning a championship is the goal, and each player parroted Long obediently. While this cautious approach is excused during the 'getting to know you' phase describing SDSU's present relationship status with San Diego, non-alumni viewers need stronger questions if the relationship is to blossom into something resembling true fandom. I hope that in future episodes, O'Connell will not shy away from follow-up questions designed to lead Long into frankness.
Fans also need a viewer and a DVR-friendly timeslot. Currently, "Aztec Football with Rocky Long" is secondary to FSSD's live sports commitments. Given the Padres woeful ways, it's a leap of faith San Diegans will wait to watch Long.
It's too much for a program hungry for an audience. Just move Long's show to a timeslot not usually pre-empted by live sports. Then, Budden and O'Connell can concentrate on getting Long to shoot from the hip. Let Long loose and San Diegans lose one more excuse to not pay attention.