Aztecs set to tee off at Southwestern Intercollegiate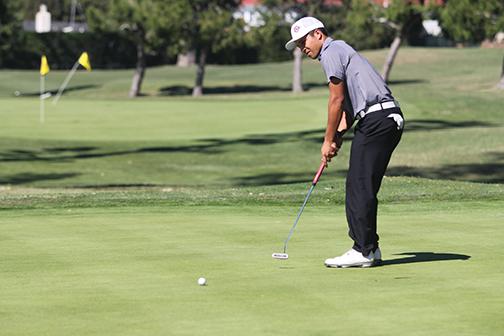 The San Diego State men's golf team will open the 2014 season at the Southwestern Intercollegiate Tournament at North Ranch Country Club in Westlake Village, California on Monday.
The Aztecs, ranked 34th by GolfWeek.com heading into the first fall event of 2014, are one of three top-40 teams competing in the tournament. The other two are Stanford University and the University of Southern California, who are ranked No. 3 and No. 25 respectively.
The Aztecs are anchored by three All-Mountain West First Team selections in senior Xander Schauffele, junior Riccardo Michelini, and 2014 Mountain West Freshman of the Year Ricky DeSantis. The final two spots in head coach Ryan Donovan's five-man lineup are still up for grabs as of Thursday afternoon.
Schauffele, a three-time Mountain West Golfer of the Week last season, enters the season ranked 54th by GolfWeek.com.
North Ranch Country Club is a par 71 with 6,964 yards laid out for members-only enjoyment. The last time SDSU teed it up at North Ranch was at the North Ranch Intercollegiate Tournament in the spring of the 2013 season, where they came in fifth at a combined 36 shots over par. Michelini, the lowest scoring Aztec, tied for 7th carding a 5-over 218 over three rounds.
USC won the tournament in 2013 at 11 strokes over par, suggesting that North Ranch is a tough place to score, and may be one of the tougher venues SDSU plays all season.
The Aztecs are looking to take back their seat atop the Mountain West Conference after finishing second to the University of New Mexico the last two years in a row. Before the Lobos won back-to-back titles, it was the Aztecs hoisting the trophy in 2011 and 2012.
"We are deeper and more experienced this year," coach Donovan said. "But we have to focus on one tournament at a time."
The Aztecs will play 36 holes of continuous golf on Monday, followed by the final round on Tuesday. Tee-off will be at 8 a.m. on both days. You can follow along with live scoring updates from GolfStat.com.
Aztec fans looking to see the U.S. Amateur Champion this season will have to wait.
Gunn Yang will not suit up for San Diego State this season, according to coach Donovan. After a miraculous win at the U.S. Amateur Championship last month, Yang has received exemptions in nine PGA Tour events next year, including the U.S. Open and British Open. He has also been invited to play in the 79th Masters Tournament at Augusta National.
While his schedule is not yet set, it would be nearly impossible to prepare and compete in these tour events while participating in a college golf season. You could see Yang in a professional event on American soil as early as February at the Farmers Insurance Open held at Torrey Pines Golf Course in La Jolla.