Hard Summer 2014 Recap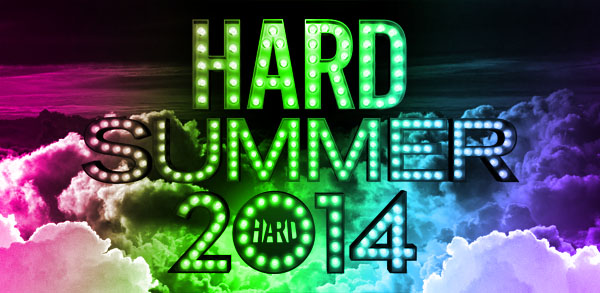 During the summer of festivals, only one could command the attention of the entire state of California, and then some. Festivalgoers flocked from far and wide, from Northern California to Arizona, for the one and only Hard Summer. A two-day festival taking over Whittier Narrows Park in South El Monte, California; this eclectic combination of underground meets mainstream was home to over 70,000 fans. Mixing a wide range of electronic music, from electro house to techno and moombahton to tech house, the LA festival also featured prominent hip hop performances that felt right at home. Hardfest, the promotional company putting together the "Hard" events, have struck a keen balance in maintaining their prominent sound, while also broadening their appeal to command such a huge festival. Not many festivals can appeal to the same crowd, artists ranging from Disclosure to Dillon Francis, Tiesto to A$AP Mob, Maya Jane Coles to Martin Garrix.
Featuring five stages, including three festival tents, the abundance of incredible music could almost be overwhelming to any first-time festivalgoer. As the gates opened right at noon on Saturday and Sunday, fans were treated to eleven hours of musical heaven, from the headlining main stage acts, to the alternative house dj's. Hard has always been about musical diversity, and Hard Summer brought the best of both worlds.
Some of the biggest and packed crowds Saturday afternoon were found at the tents, rather than the main stage. "Future House" forerunner Tchami, and Flume-collaborator, What So Not, filled the tents to the brim with eager fans ready to dance the night away. Saturday would not be complete without mentioning the monumental homecoming of the massive duo featuring OWSLA founder, Skrillex, and Mad Decent mogul, Diplo. The legendary Jack U, the duo was everything I expected from a collaboration of two of EDM's biggest acts. Sparing no compromises, their set's personality was split down the middle between the two. You could hear their individual persona with each song, raucously transitioning to the next, in a flurry of high-energy and breakneck vigor. There was not a dull moment throughout Jack U's performance, as the set capped off with a drizzle of rain to immortalize their performance.
Setting the bar high, Sunday was set to be just as extraordinary. LA native, Dillon Francis took over the main stage returning for his fifth Hard Summer, and his biggest performance yet. Dj'ing from his massive architecturally poignant set piece, aptly titled "The Gary" named after architect Frank Gherry, waves and waves of fans made the pilgrimage to catch his performance. Standing in the middle of their path, it was like watching a small nation migrate, and it was all for his performance.
Being a humongous Dillon Francis fan, it was jaw dropping to see just how big the clown-prince of EDM has gotten over the past couple years. While staying true to his moombahton roots, he was able to capture the attention of over 30,000 fans, keeping them jumping and grooving throughout his entire set. He even had some fun with the crowd, using the massive build up for TJR's widely played "Bounce Generation" just to cut it off at the drop into T-Pain's 2006 hit, "Buy You a Drank". Catching everyone off guard, especially myself, it was a moment I will never forget: looking around at a confused mass of fans all ready to jump, slowly adjusting, feeling the groove and throwing it back to T-Pain.
Even with all the good from the weekend, it's also important to see how the scene was grown, for better or worse. More and more people are coming for reasons other than the music, and it's apparent to see as flocks and flocks of festivalgoers are keener to follow the hype than their own taste. Music festivals, especially those EDM centered, have become play grounds for intoxication, as more and more fair weather fans look towards it as the "cool new thing" to do. The sentiment has been true for the past couple of years, but it's disheartening to watch it happen first-hand to the one festival you call home.
My first electronic music festival was Hard's very own Halloween show, Day of the Dead in 2012. There I was able to catch one of the very rare performances from the iconic French house duo, Justice. There I was also able to open my mind to the live sounds of Clockwork, Jack Beats and Knife Party; sets that have broadened my outlook on electronic music and shaped my musical taste to how it is today. To hear of people's lack of musical passion, in an exchange for a focus on inebriation, is heartbreaking to say the least.
Hard Summer still stands as one of the biggest festivals Los Angeles has to offer. As more and more festivals are popping up around town, Hard continues to command the attention of a legion of fans, from the underground to the mainstream. All of this wouldn't be possible if it wasn't for the creative genius of Gary Richards, otherwise known as the producer/DJ, Destructo. His persistent vision and preservation of the LA music scene, from house to hip-hop as one cohesive experience, is what has made it an annual festival for my friends and I. Year after year, event after event, I can't wait for next year's Hard Summer!