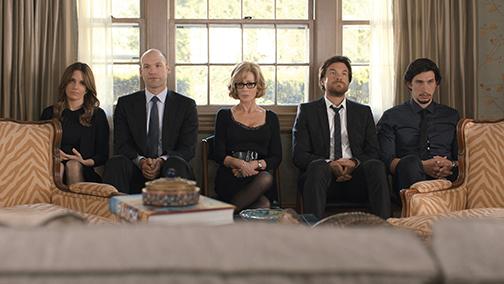 Jessica Miglio/Warner Bros.
Director Shawn Levy is known for broad, mainstream comedies such as "Date Night" and the "Night at the Museum" series. His latest comedy-drama, "This is Where I Leave You," deals with serious subject matter not usually associated with his other films.
Based on the novel of the same name by Jonathan Tropper, the story focuses on Judd Altman (Jason Bateman) an unemployed and recently divorced man who is not particularly close with his imperfect siblings. He is forced to reunite with his family after his atheist and Jewish father passes away. His mother (Jane Fonda) tells her four children that their dad requested them to sit Shiva for a week in accordance with the religious ritual.
One of the pleasures of "This is Where I Leave You" is Levy's laid-back style. He tends to revolve his scenes around conversations that range from comically heated to calmingly casual. It also helps that Tropper, author of the original source material, writes these exchanges.
Tropper's screenplay deals with weighty issues including love, infidelity, immaturity and the overall messiness of life. He effortlessly explores these issues in thoughtful ways that don't take away from the occasionally raunchy humor.
Levy once again casts an ensemble full of well-known performers for his flick. Bateman showcases his knack for chemistry with fellow actors, which can sometimes be taken for granted. He has just as much rapport with his on-screen sister Tina Fey as he does with veteran actress Fonda.
Fey has rarely played such a sad role as Wendy Altman, a mother who is stuck in a difficult marriage. A subplot involving Wendy and her ex-boyfriend Horry Callen (Timothy Olyphant) features some of Fey's most touching acting to date.
As Judd's brothers, Corey Stoll and former San Diegan Adam Driver act less like relatives and more like eternal rivals. It does not take long to believe the two of them have resented each other for years.
Some issues keep "This is Where I Leave You" from being quintessential cinema. A couple of broadly comedic sequences, including several slapstick fights, do not gel particularly well with the generally subdued tone. Some minor characters, including Judd's former boss (Dax Shepard) and Wendy's husband (Aaron Lazar) are also not as well developed as Altman and it appears some of their scenes might have been left in the editing room.
Regardless, viewers will likely find the motion picture to be a humorous experience into the complexities of relationships. In spite of the flaws, "This is Where I Leave You" offers plenty for people who can relate to the dysfunctional characters or just like to watch them on the big screen.
Rating: 3.5 out of 5 stars