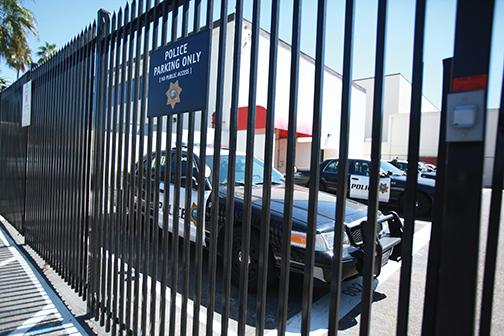 The San Diego State Police Department will host an open house Friday from 3 to 5 p.m., allowing the SDSU community to view the police station and interact with members of the department.
"The purpose of the open house is to provide a casual environment for people to come and learn about what we do and how we do it, and to engage in a conversation about what else we can be doing," Chief of Police Lamine Secka said.
Secka, along with officers, dispatchers, community service officers and other representatives from the police department's different divisions will be present.  In addition to touring the police station, attendees will be able to view displays of vehicles and equipment.
Secka said this is the second consecutive year the department will host an open house in this format, although SDSUPD has hosted several others in the past.
"We partner with the community all year long, and it's important for us to understand the needs of the community and what their expectation is," Secka said. "And it's important for the community to understand what we do and how we do it and some of the resources that are at our disposal and, likewise, some of the resources that are not at our disposal."
He said one of the big issues the department faces is what he calls the "CSI effect."
"People expect crimes to be solved in 50 minutes," Secka said. "We like people to have a reasonable expectation of what we can and can't do, and then hopefully with that additional knowledge we can work together to make SDSU even safer."
So far this semester, recent crimes such sexual assaults and thefts reported to SDSUPD have resulted in approximately six crime alerts sent out to the SDSU community members.
"People say every year, 'it seems like it's more than last year,' when in fact it's not," Secka said of the number of crime alerts SDSUPD sends out. "But it is our attempt to make our community aware of what is going on, and hopefully by doing that make it that much safer."
Secka realizes students are heavily involved in social media and said SDSUPD is trying to have a greater presence online this year. Secka, dispatchers and other members who have been trained and have knowledge of social media and regularly have access to useful information, regulate the police department's Facebook and Twitter accounts.
Secka said SDSUPD will attempt to continue building relationships with students and community members in various ways.
"Whether it's through technology or through face-to-face interactions such as the open house, we're going to continue to try to foster those relationships," he said.
Secka, who became chief of police in February, said he hopes the open house will allow individuals to learn more about SDSUPD.
"I hope everyone that comes will walk away with at least one if not more new tidbits that they learned or were able to talk about," he said.