September Metal Releases that shred faces and fall short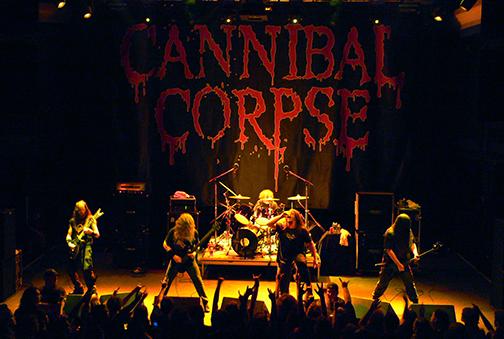 September begins what promises to be a busy fall 2014 for heavy metal. Let's look at three notable album releases:
"Exit Wounds" by The Haunted
4 out of 4 stars
The Haunted feels like a supergroup given that each musician plays in a prominent metal band ranging from At The Gates to Six Feet Under. Its lineup is volatile as the fictional Spinal Tap's. Since the thrashcore group's 1996 inception, there have been at least seven versions of The Haunted. And distressingly, the group's initial brutal assault devolved in 2011's abysmal nu-metal release "Unseen."
The metal family could be forgiven for doubting The Haunted's comeback. But "Exit Wounds" puts the band back on firm footing, if not completely atoning for betraying its fans.
The album opens appropriately with a pounding heart before guitars begin a slow, chugging march a la Metallica's "Enter Sandman." I'd like to think guitarists Ola Englund and Patrik Jensen are playing with their fan's hearts given the slow burn beginning "Enter Sandman" marks metal's most savage betrayal.
By the time that vocalist Marco Aro erupts, though, it's obvious The Haunted has returned to the approach that turned The Haunted into a fan favorite worthy of its legacy.
"Siren Charms" by In Flames
1 out of 4 stars
In contrast to The Haunted's triumphant return, In Flames continues to alienate. What started in 1993 with its debut album "Lunar Strain" is finished. Regardless of how one viewed In Flames' sound prior to 2006's "Come Clarity," it's now stuck in metal's most despised genre: contemporary metal.
In Flames wants to be Korn. It's partially understandable because the nu-metal pioneers still command enough of a fan base to warrant headline status on metal's most prominent North American summer festival circuit. Money is money, and it doesn't care if a band had to sell itself out to earn it.
But listen through In Flames' discography to appreciate how its genre shift wastes immense talent and innovation. Previous albums, particularly "Jester Race" and "Whoracle," suggested that In Flames was metal's answer to composer Richard Wagner. Each album fits together like a symphony, setting In Flames apart as the group most rewarding while challenging the community at large.
Unfortunately, those days are gone now. Today, they sound every bit as bland as Three Days Grace.
"A Skeletal Domain" by Cannibal Corpse
4 stars out of 4
If you've seen "Ace Ventura: Pet Detective," you already know Cannibal Corpse. But by the time the boys made their Hollywood debut, the Buffalo-based quintet was already death metal legends.
"A Skeletal Domain" is the group's 13th release, an important number for a band steeped in cartoonish gore. Just read the song titles to quickly grasp each song revels in death via torture. And if you don't get it from that, take a gander at the album covers too graphic to be displayed even in a student newspaper.
Cannibal Corpse's lyrical content doesn't change and neither does the styling. Somehow, someway the quintet keeps churning out the same frenetic dual-guitar feedback-drenched squeals, cookie-monster vocals and straight-ahead rhythms. Its durability despite variety reveals how much better they do it than most other bands.
My son swears Cannibal Corpse is on the verge of technical change with this album, but I don't hear it. Perhaps it's because I don't want the band to alter its approach. Cannibal Corpse is perfect just the way it is, and "A Skeletal Domain" is yet another venture into the comforts of familiarity.