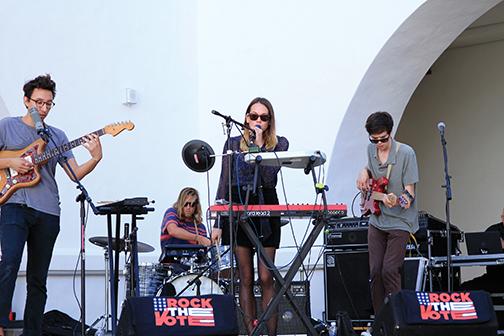 Andy Farra, staff photographer
As the Nov. 4 elections approach, San Diego State's Associated Students has begun its movement to encourage students to vote. A.S. officially kicked off its Rock The Vote campaign Tuesday, Sept. 23 by treating students to a barbecue.
The event — hosted in the Conrad Prebys Aztec Student Union — coincided with National Voter Registration Day and included voter registration tables, free food and live music.
"We included all the aspects that we know would draw a college crowd," A.S. Secretary of the Marketing and Communications Committee Kaitlan Tatro said.
A.S. handed out voting-related stickers and Rock the Vote T-shirts, and had an elephant and donkey head masks several A.S. members wore to attract students to the event.
"I think the loud music and the crazy heads entice people in — we grab them and we get them to register," A.S. Vice President of External Relations Jacqueline Karczewski said.
Lance Brooks, a representative of the College of Human Health and Services in the A.S. University Council, volunteered at one of the registration tables.
"It's seems like most people are pretty excited but also kind of confused," Brooks said.
Brooks said he recognized the democratic process can be confusing. He, like other A.S. members, were able to answer questions related to polling locations, registration eligibility and more.
Tarto said the barbecue kicking off the Rock the Vote campaign is important especially since the college student age group tends to have a low voter turnout.
"I think it's the way politics is portrayed to us as we're growing up," Tarto said. "And people don't think their voice matters, but that's completely wrong. I think people just don't want to take the time to even think about it. But they definitely need to get their voice heard, so that's why this event is important."
Tristyn Kemp, a business freshman, registered to vote at the A.S. event on Tuesday.
Kemp said he believes students don't turn out to vote because of laziness and the work required to research what is being voted on. He said he registered because "voting matters" and he plans to vote in November.
Rocking until Election Day
For the first time, A.S. made voter registration forms available at residence halls' front desks this semester. They have been available since move-in day and A.S. will collect them from the front desks regularly until Oct. 20, the voter registration deadline.
A.S. will also use its "spirit cart," as Karczewski called it. It will be used about every other week to inform students about events happening on campus during the Rock the Vote campaign.
"I feel like tabling can get lost in the crowd, so this is something that screams and jumps out at you," Karczewski said. "It had positive feedback in the past, so we decided to do something out of it this year."
A.S.'s Rock the Vote campaign will also include a social media campaign, reaching out to student organizations and a video that will be on the A.S. YouTube channel and website.
Karczewski said she believes A.S. serves as the reminder to students that voting and the election process is important.
"It's really good to remember that students are the future … and in order to see a change we really need to step up and have our voices be heard," Karczewski said. "If all of the younger population registered to vote and voted, we'd be 40 percent of the vote."
After the October registration deadline, Karczewski said A.S. will remind students to go vote.
The student union will have a poll on site to allow students, staff, faculty and community members to vote on Nov. 4. According to SDSU NewsCenter, the polling site on campus will be the largest in all of San Diego County.