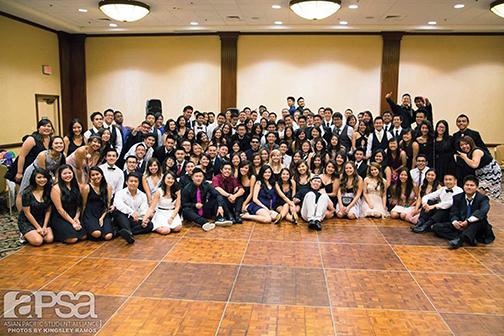 The Asian Pacific Student Alliance was founded in 1972 and is one of 25 cultural organizations at San Diego State. According to APSA's website, the organization's goal is to unite various Asian and Pacific Islander students together to share and learn more about their culture. The organization strives to rebuild stronger ties with alumni and grow their community on campus this year.
Valuing tradition, community involvement and diversity, APSA welcomes any and all students into their organization. APSA President Octaviano Ramirez said students that become involved in APSA have the opportunity to meet new people and network with other cultural organizations on campus.
"By joining the APSA, students are able to learn more about the Asian and Pacific Islander culture, get more involved in the community, and get to know diverse students within SDSU in order to create a more home and family environment around them," Ramirez said. He added that APSA focuses on four aspects: academic, social, political and cultural.
In addition to uniting students on campus, APSA is committed to volunteering and helping the community in any way it can. This semester they will be volunteering at the annual Del Mar Mud Run and helping at various food events, including the San Diego Night Market, an event that promotes Asian Pacific American culture through food, arts and music.
"We do a lot of community service events," Vice President of International Affairs Cindy Du said. "A couple of weeks ago, we helped Two Brothers Construction put on a lantern festival for the Asian community in City Heights. Our vice president of external affairs plans all of our community involvements and I know she has many more events planned for us."
In April, APSA won the Student Organization Diversity Award at the SDSU Diversity Awards ceremony. The award is given to student organizations that display leadership and positive interaction between people of different cultures.
"It was such an honor to be presented with such a reward," Ramirez said. "It helped show that all of our hard work throughout the year hadn't gone unnoticed."
APSA meets at 2 p.m. on Tuesdays in Park Boulevard in the Conrad Prebys Aztec Student Union. There are no requirements to join and no membership fees.
"Students can come in and join late in the semester and they will be welcomed just as warm heartedly as the students on the first day," Ramirez said.