Get involved: Korean Student Association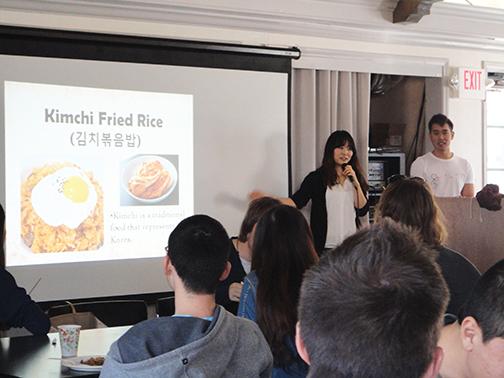 Those interested in the Korean culture are a great match for San Diego State's Korean Student Association, whose main goal is to spread awareness of the country's traditions and customs.
"We welcome anyone that has an interest in Korean culture," KSA President Taylor Flores said.
At every bi-weekly meeting, the club teaches its members about various aspects of Korean culture, from food to music and more. KSA also hosts tutoring sessions every Monday that it doesn't hold official meetings. On these days, members that are native speakers teach others about the language, Flores said.
One of the club's biggest events is the Korean Culture Night that KSA helps to put together every spring in collaboration with the Department of Linguistics and Asian/Middle Eastern Languages. It is a free event that showcases Korean culture through food, music and dance performances.
Every semester, the organization also participates in the International Student Center's coffee hour sessions, through which students can learn about the culture through a PowerPoint as they eat and mingle. This year's Korean Coffee Hour will be Oct. 24.
Two or three times a month, KSA organizes social events to bring together members, from hiking adventures to karaoke nights and Korean barbecue gatherings.
For the first time, KSA will help promote Hangul Day, on Oct. 9, which will be a new celebration on campus this year put on by the Korean department. Flores also said KSA will interact more with other Korean clubs, such as the one at University of California, San Diego to hold mixers. KSA is also planning an ice skating event with SDSU's Vietnamese Student Association.
Flores said the club opens its doors to anyone despite his or her ethnicity.
"It's a good way to meet new people even if there isn't much interest in Korean culture yet," she said.
Flores, who is a mix of Mexican and European, has always had an interest in Korean culture. She said that she researched the club the summer before she came to SDSU. She has been a member since last year and in the spring semester she was the secretary of the club.
"It's a great atmosphere," Flores said. "Everyone is very welcoming, not just the officers but also the members."
KSA holds meetings from 5-6 p.m.. every other Monday in the Aztlan Room of the Conrad Prebys Aztec Student Union.