[VIDEO] Second sexual assault rally gains momentum
Monica Linzmeier, Editor in Chief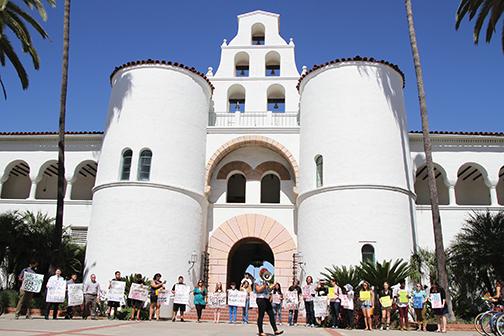 Update: Gov. Jerry Brown announced Sunday Sept. 28 that he signed the "yes means yes" bill, making California the first state in the U.S. requiring affirmative content in sexual assault policies at universities.
After the third sexual assault reported to San Diego State police this month, nearly 30 SDSU students came together on Thursday, Sept. 25, to demonstrate their support to those sexually abused and to encourage Gov. Jerry Brown to sign the affirmative consent bill that nears its approval deadline.
Last Thursday's rally saw an increase in student participation from a previous demonstration against sexual assaults that was held on campus on Sept. 18, in which about a dozen students participated.
For American Indian Studies senior Jordan Busse, the issue at hand is more personal. Three years ago, she was sexually assaulted at 18 while she was away in college. She returned to San Diego after to care for her mental health and began studying at SDSU.
"For a while I didn't talk about it, I didn't think about it, I questioned if it even happened," Busse said. "I started to take women's studies classes and feminist studies classes and I began to realize that what happened to me was not an individual thing, it's a systematic problem."
Students rallying Thursday marched to Manchester Hall, gaining enough momentum to be invited to speak with SDSU Title X Officer and Associate Vice President Jessica Rentto. With media present, demonstrators were able to ask questions and give suggestions.
"We want to make sure our message is effective, but it is going to take some time," Rentto said to the students. "I love seeing all you here, because to me you're more people to help get the message out."
One of the suggested ideas from a student was to create an atmosphere in which students could be involved in the discussions with SDSU's sexual assault task force.
SDSU's sexual assault task force began meeting in June, Rentto said. The group is divided into four sub-committees that work on communication, educational programs, evaluation and changing culture on campus.
"It might be a good idea to work with Associated Students and create a forum and give our students an opportunity, almost like a town hall, so we can all get together and discuss these issues," Rentto said.
According to www.oneinfourusa.org, fraternity men are three times more likely to sexually assault then those not in a fraternity.
To combat these statistics, the school offers various programs, such as sexual assault intervention and awareness programs such as Frat Manners specifically for fraternities.
"(Frat Manners) is a course for upper level fraternity members where they learn about what they can do to stop the culture of rape and to intervene," Rentto said.
Rentto said SDSU is working with researchers to create a survey to better understand the numbers surrounding sexual assaults. The survey is likely to be released in the spring, and there will be a campaign to encourage students to take it.
From the audience came the suggestion to make the survey mandatory, such as the alcohol surveys through eCHECKUP freshmen are required to take.
"I think it would be useful to find out what eCHECKUP did to make their survey work because I remember doing that so many times," English literature and women's studies senior Marina Butler said. "This is my sixth year and I have barely gotten any information of what to do if I got sexually assaulted but I know how many cheese burgers I eat in a month."
The demonstrators also made the decision to send a letter demanding that SDSU president Elliot Hirshman listen to their voices.
"I hope that when he sees what we are asking for that he really responds to the needs of the students and does more to make sure that we are safe here," Butler said.
Gov. Brown has until Sept. 30 to sign the "yes means yes" bill requiring an explicit "yes" before sexual intercourse.