Professors study obesity locally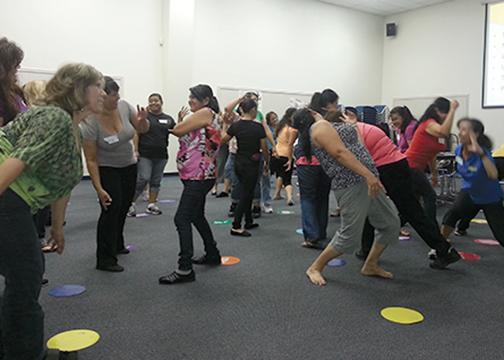 San Diego State was one of three grant recipient sites for an ongoing research project studying childhood obesity in Imperial County. The Centers for Disease Control and Prevention awarded more than $6 million in Oct. 2011 to the project.
The project involves a partnership with Imperial County Public Health and focuses on children and their families in Imperial County cities. Clinics, schools, recreation centers, childcare centers and restaurants in the area are monitored for their impact on the health of children.
"The notion is that some environmental conditions are challenging," co-investigator and  professor of exercise and nutritional sciences Thomas McKenzie said. "There are very warm and windy conditions (in Imperial County) often with no indoor exercise space and no physical education teachers."
Imperial County is east of San Diego County and borders Mexico and Arizona. The population was estimated to be 174,528 in 2010 with 77 percent of Mexican descent. The average 2010 household income was $39,402 for the county, whereas the average for the state of California was $61,632, according to Our Choice/Nuestra Opción.
"Childhood obesity among Latinos is reported as high as 50 percent in Imperial County, which adds many more risk factors for premature death," principal investigator and professor of public health Guadalupe Ayala said.
Children who are obese have a much higher likelihood to become obese adults, Ayala said. With higher than state average poverty rates, getting proper nutrition to children is also more difficult.
"It is important to start with children because they learn eating and physically active habits at a young age," McKenzie said. "It takes a community to create a physically active child."
The research was an initiative by the CDC Division of Nutrition Physical Activity and Obesity for prevention and control of childhood obesity. Four main components make up the foundation of the research.
"The project has focused on exercise, nutrition, sleep, and decreasing sugary beverages," co-investigator Helina Hoyt said. "While the messages have been promoted throughout the entire county, Brawley, El Centro, and Calexico have been the focus."
Over a period of 18 months, the habits of 1,200 children 2 to 11 years old will be monitored. Such habits include exercising, sleeping, water drinking and indicators of their overall health. After the 18 months are up, results will be analyzed to see if the child's overall health and body mass index (BMI) improved.
At the conclusion of the study, the CDC must report to Congress what funding is necessary to support a healthy lifestyle for children, Ayala said.
"There is true strength in the people of the community," Hoyt said. "The Centers for Disease Control has been pleased with our progress and I look forward to the dissemination phase when we are able to showcase all of the hard work that has been produced."
A report of the results of the four-year-long project will be published when the research concludes. About one year is left in the study.
The other sites funded for similar research included the University of Texas Health Science Center at Houston, the University of Texas Austin, and the University of Massachusetts Health Department.