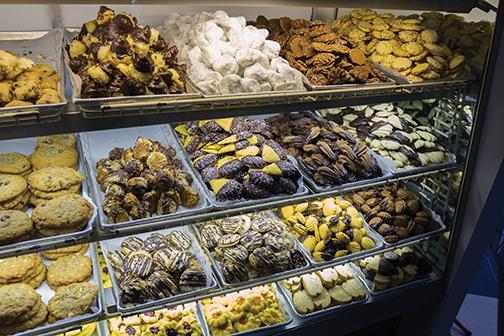 Chadd Cady, Staff Photographer
It was a Sunday when some friends and I headed to D.Z. Akin's just off Interstate 8 on Alvarado Road, a delicatessen founded by Debi and Zvika Akin that opened in 1980 and prides itself on high-quality, home-cooked food. We were ready for some hearty lunch — and boy were we satisfied.
Upon walking inside, we instantly noticed that though there was no music playing, the atmosphere was loud and busy. Standing in the entry area, we were surrounded by deli and bakery goodies from mayonnaise-based salads to chocolate cakes. We admired all of the celebrity-signed headshots on the back wall while we waited in the short line queued at the hostess stand.  After being asked to wait until a table was available, we perused the treats through the clear dome display, and then wandered into the adjoining gift shop where we particularly fawned over a variety of small, charming owl trinkets.
Our party was called and led into a dining area primarily filled with turquoise booths.  A divider was lowered between a booth for four and a booth for two, and the six of us were ushered into both sections by our waiter, who was wearing a Chargers polo. He then proceeded to hand us humongous menus.  Though we were overwhelmed by the choices, we munched on the pickles available in our booth's container and pulled ourselves together enough to order our food.
Our table was soon stocked with a great selection of dishes. From the hot sandwich section there were a number of options: a number 72, a $10.25 half pound hamburger with lettuce, tomato and onion and cheese by choice, a number 71, a turkey burger with lettuce, tomato and onion and no cheese by choice for $9.50, and a number 70, an $8.95 BLT. All three orders came with a side of fries.  From the sandwich section options included: a number 14, a $13.50 turkey, swiss cheese and egg salad sandwich with a side of another mayonnaise based salad, except with potatoes instead of eggs. From the salad selections, a prime pick was the $13.95 Sante Fe chopped chicken salad consisting of mixed greens, corn, black beans, avocado, cheese, tomato, cilantro, tortilla chips and grilled chicken drizzled in barbeque ranch salad dressing.
From the all-day breakfast menu, the highlights included a dish with two pieces of French toast, two scrambled eggs and two sausage links for $10.95.  With the exception of the salad, each plate was garnished with an orange slice and a sprig of parsley.
We collectively decided that the fries were A-plus.  We noticed the range of customers sitting around us were quite varied—young couples that did not glance away from one another, families with small children that were having trouble remaining seated, an older lady on her own at the table next to us engrossed in a novel.
I contemplated the idea if it was possible to divide my sandwich into bite-sized pieces (it wasn't). The wall to one side of us hosted a mural that was a painted form of the bustling delicatessen, complete with a young boy holding a frog and chasing a young girl with it.  The wall on the opposite site hosted the door to the restroom and a cartoon depiction of a woman with a speech bubble that encircled the words "Ladies' room? This way deary!"
Some of us had to get boxes to take home the remainder of our food, but we were still crazy enough to order dessert.  We ordered three generously-portioned items from the "Your Sundae Best" section; I'm Nuts over You, consisting of two scoops of vanilla ice cream as well as caramel, nuts, whipped cream and cookie for $7.95; Black Bottom, consisting of vanilla ice cream, hot fudge and whipped cream served over a double fudge brownie for $9.95; and Bloomingdale's, which had a clever yet undescriptive description on the menu: "You'll find everything but the kitchen sink here. A princess' dream. (Credit card not included)."  A brief but more representative description of the sundae would be multiple flavors of ice cream, pineapple and strawberry sauce, Oreos, bananas, graham crackers and more.  If there is such a thing as too much heaven to handle, Bloomingdale's is it.
Though a trip back to the cashier's counter at the end of our visit told us our total was more than $100, it is safe to say that D.Z. Akin's treated us well.  To future patrons, I would recommend coming with both high expectations and stomach capacity — they will both be exceeded.