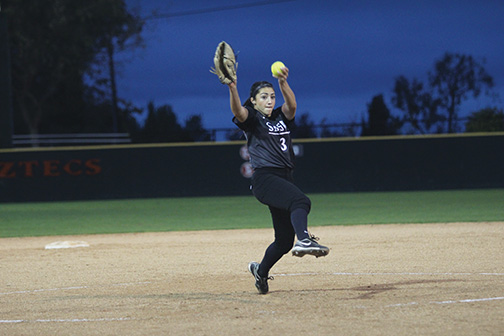 Kelly Smiley, Staff Photographer
Softball pitching ace Danielle O'Toole has transferred to the University of Arizona, The Daily Aztec learned last Friday.
O'Toole released this statement today via an email from the Arizona athletics department:
"After spending two years at San Diego State, I decided that it wasn't a great fit for me and I needed a change of environment. I enjoyed my time playing there and with the team, I made some great friends so the change wasn't because of athletics. After taking numerous visits, I decided on Arizona because I fell in love with the school and knew that it was the place I wanted to go. I love Arizona and I am enjoying spending every day with the girls and the coaching staff."
In just her second season with the Aztecs, O'Toole led the team in innings pitched (256), appearances (48) and complete games (26). Her 31 wins ranked as the seventh most in the nation.
Additionally, O'Toole pitched all 22 innings in the season finale three-game series against Boise State University last April, surrendering only one run. Her mastery against Broncos batters resulted in the Aztecs sweeping the series and advancing to the NCAA Tempe Regional.
"We wish her best of luck in the future," Van Wyk, Aztecs softball head coach, said.
The Daily Aztec first suspected O'Toole wasn't with the team when a team photo without O'Toole present was published on social media. Her Facebook profile reflected that she was studying at Arizona.
The Aztecs continue on without O'Toole, beginning fall exhibition play on Friday, Oct. 17 at Grossmont College. First pitch is scheduled for 3 p.m. The nine game slate includes two games at the SDSU Softball Stadium, Nov. 14 and Nov. 22.