Pulitzer winning play hits town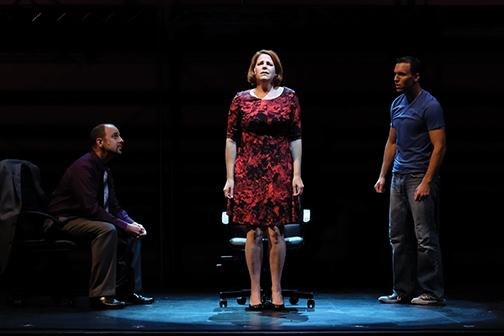 A rock musical about a woman with mental illness sounds like a risky idea on paper. However, "Next to Normal" won the 2010 Pulitzer Prize for Drama and a number of Tony Awards. San Diego Musical Theatre is now running a new production of the acclaimed play at the North Park Theatre, which features a mixture of well-respected local artists and rising actors.
Diana (Bets Malone) is a suburban mother who suffers from bipolar disorder. She tries to live a normal life with her supportive husband Dan (Robert J. Townsend), bright and cynical daughter Natalie (Lindsay Joan) as well as her curfew-breaking son Gabe (Eddie Egan). Her disease eventually worsens and Diana decides to get help from the compassionate Dr. Madden (Geno Carr).
Malone is fierce, devastating, warm and sometimes funny depicting a protagonist not often associated with musical theatre. The actress digs deep to express how much her life has been negatively affected from her character's severe psychiatric disorder.
Townsend shows how much Dan is struggling to make his wife happy. Some of his most powerful moments are when he expresses Dan's aching vulnerability.
Sixteen-year-old Joan gives a raw and sardonic portrayal of high school student Natalie. She sings with a voice full of jaded anger but also can be quite eloquent.
As Diana's son Gabe, Egan is equally empathetic and menacing. He sings his big show stopping number "I'm Alive" with a lot of gusto.
Carr, as Dr. Madden, and Eric Parker as Natalie's stoner boyfriend Henry, are just as memorable as the rest of the cast. They provide a healthy dose of humor and play caring individuals who seem genuinely interested in helping people.
Director Nick DeGruccio emulates the spirit of the original New York version of "Next to Normal." He incorporates a relatively spare set that allows the audience to focus their attention on character relationships.
The gutsiness of the original plot turns the theatrical piece into a near masterpiece. Not only does Yorkey's writing gracefully deal with serious subject matter, but he keeps on surprising spectators with the narrative's sophistication.
"Next to Normal" warrants all the praise it has received also because of Tom Kitt's versatile music and Brian Yorkey's character driven lyrics and book. Almost completely sung through, the songs convey deep emotions ranging from sorrow to hope.
A story like this requires a high-quality band, and the band led by musical director Don LeMaster, former San Diego State staff accompanist for the MFA Musical Theater Program, does not disappoint. Sean LaPerruque's violin playing can be tear-inducing, and pianist LeMaster's music skills capture the different moods expressed throughout the tale.
Guitarist Bill Kilpatrick provides plenty of high energy during some of the more intense musical numbers such as "You Don't Know" and "The Break." His fervent guitar playing is evident, even during a short overture.
"Next to Normal" is further proof that musicals can tell stories that are as impactful as a classic drama. Be sure to find time to watch SDMT's interpretation before it closes on Oct. 12.