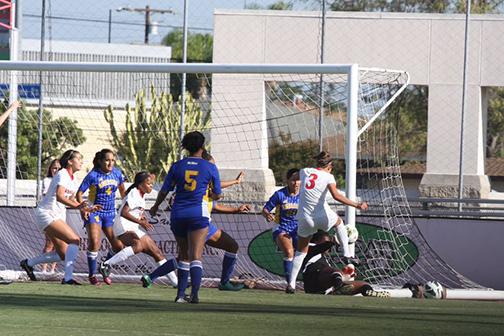 Kelly Smiley, Staff Photographer
The San Diego State women's soccer team (7-2-1, 2-0 MW) returned from the second road trip this weekend without another blemish on their record, as they defeated Mountain West foe California State University, Fresno (1-10, 0-2 MW), 4-2. This win extends the Aztecs conference win streak to nine, dating back to last season and their overall win streak to three.
Junior defender Meggie Gulczynski put SDSU on the board in the 14th minute. On the first corner kick of the game, senior forward Kelsey Booth passed the ball to Gulczynski, a few feet away, who sent an arching shot into the box that flew over Fresno State's freshman goalkeeper Domenique Banta to score the first goal of the game.
Booth continued her own streak as she scored her third goal in three games off a beautiful feed from sophomore Morgan Darling in the 31st minute. This marked the fifth goal for Booth on the year.
In the second half, the Aztecs and the Bulldogs traded goals. It did not take long for either to find the back of the net.
In the 50th minute, after a throw in by Fresno State, freshman defender Miranda Rudolph sent what appeared to be a harmless shot into the box; however, senior goalkeeper Melanie Vaughn misplayed the ball and could only watch as the ball trickled in.
SDSU quickly recaptured momentum as just four minutes later they extended their lead back to two. Sophomore defender Jen Rupey sent a missile from the right sideline that senior forward Hannah Keane was able to track and head past Banta.
After another goal by Fresno State in the 67th minute, the Aztecs were able to settle down and play their game defensively and dominated the game to the final whistle. Senior Haley Locker finished the scoring in the 85th minute, as she was able to knock in her first of the season.
SDSU resumes play as they prepare to face Colorado College at 7 p.m. this Friday, Oct. 3 at the SDSU Sports Deck.