Bawden to start vs. Bulldogs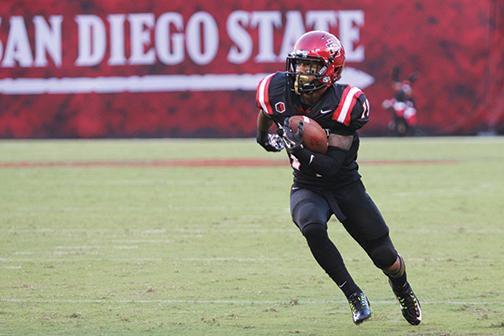 The San Diego State Aztecs football team will square off against the California State University, Fresno Bulldogs, in a battle for "The Oil Can" on Friday night on the road.
SDSU is coming of their second win of the season — a game that one could argue was their most complete thus far.
"We didn't make any mistakes and I think it showed on offense," senior fullback Adam Roberts said. "Ball security is very important and we did not have a turnover all game."
The Bulldogs most prolific passer in school history, Derek Carr, graduated — and the Bulldogs are feeling his absence with a record of 2-3. They lost their first three games by more than 30 points and gave up more than 50 points in their losses.
Last season, SDSU lost to Fresno State 34-30 due to lackluster place kicking. Let's take a look at how these two teams match up this season.
Offense
During his press conference on Tuesday, head coach Rocky Long confirmed that senior quarterback Quinn Kaehler would be out. Kaehler hurt his right shoulder last Saturday against University of Nevada, Las Vegas. Long noted during the press conference he would be evaluated again this Sunday.
Freshman Nick Bawden will get the start on Friday in place of Kaehler.
"We're definitely going to rally behind him; one thing that we have a lot of on this team is depth," Roberts said.
Roberts cited Bawden's arm strength and maturity as being two of his greatest qualities.
In addition to Bawden starting, sophomore running back Donnel Pumphrey will need to show up once again.
Pumphrey had his finest game of the season last week racking up 167 yards and four touchdowns, both tied career highs.
"We didn't commit many penalties last week, which put us in good running situations," Roberts said.
With a true freshman under helmet, more emphasis will be placed on Pumphrey. If the Aztecs hope to win this game, he will need to have another signature performance.
Fresno State may have finally found an answer at quarterback. Junior Brian Burrell threw for 318 yards and three touchdowns against New Mexico State University last week, while also rushing for 92 63 yards and a touchdown. The Bulldogs have been using Burrell along with senior quarterback Brandon Connette, but Burrell should get almost all the snaps on Friday.
Edge: Fresno St.
Defense
Defense has been the Achilles heel for the Bulldogs so far this season, giving up a combined 166 points in their first three games.
SDSU on the other hand had their best statistical performance of the season against UNLV piling up a season high six sacks, and grabbing two interceptions.
"We have a very good pass-rush, one of the best since I've been here," Roberts said. "It's not always about sacks though, are defense consistently gets pressure on the quarterback,"
Senior defensive lineman Derek Largent will be out for the second straight week, after having an appendectomy early last Saturday. Expect senior linebacker Josh Gavert to start in his place once again.
There will be similarity for the SDSU defense facing Burrell, after dealing with UNLV's junior quarterback Blake Decker who is also a scrambler.
"We have a lot of experience dealing with mobile quarterbacks, so we are pretty comfortable with that," Roberts said.
One of the strengths of the Bulldogs defense is their linebackers who were sixth in the FBS in sacks last season, and are returning all four members.
"Their linebackers get after it," Roberts said. "They're experienced and are able to put a lot of pressure on the quarterback."
Prediciton
It should be interesting to see how Bawden handles the Fresno State pass-rush, but the game will ultimately come down to if their defense can handle Pumphrey. Numbers would indicate they will not to be able to. They have allowed 195.6 yards per game, and nine touchdowns this year.
Watch for junior kicker Donny Hageman to play a big role in this game. He has been a revelation for the Aztecs converting five of six attempts this season.
"It's wonderful to be able to drive down to the 30-yard line and know you have points, Roberts said. "Knowing you have a guy like that keeps the offense from pressing on third and long situations."
It will be a close game, but Hageman will be the difference maker.
Fresno State 21 – SDSU 24