Volleyball continues with conference contest against Cowgirls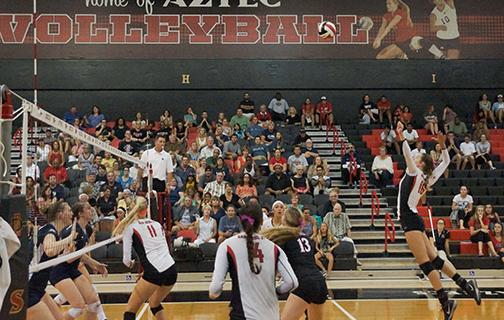 The San Diego State volleyball team will look to keep the momentum rolling as they head to Laramie, Wyoming to face the University of Wyoming Cowgirls on Thursday, Oct. 2.
The Aztecs are coming off a strong four-set win against the California State University, Fresno last Saturday. It was SDSU's first Mountain West match of the season thus far and improved its overall record to 5-6.
Despite the win, the Aztecs have faced an up and down season to this point. One of the key factors that played into this inconsistency has been the constant stream of injuries suffered by SDSU players.
"We are just finally getting everybody back," head coach Deitre Collins-Parker said. "Last week we had two days with what we felt like was a full team and then we ended up getting hurt again."
One key player the Aztecs will be looking to against Wyoming is junior outside hitter Halle Aiken. She had a very strong outing against Fresno State recording a team-leading 16 kills.
Wyoming comes into the match with a strong 11-3 record despite dropping its first two games against MW competition. They lost against both Boise State University and Utah State University and will enter Thursday's match with a 0-2 MW conference record.
One of the biggest challenges for SDSU in this match will be overcoming Wyoming's excellent blocking abilities. In fact, Wyoming's senior middle blocker Erin Kirby is only 30 blocks away from becoming the conference's all-time leader in blocks. She currently sits at 641 total blocks in her career.
"We have got to make sure we are hitting around their blocks because they are a very good blocking team and that is going to be a big key," Collins-Parker said.
Another bullet the Aztecs need to dodge is Wyoming's .299 hit percentage which ranks fourth in the nation. This category has been one of SDSU's biggest weaknesses this season considering they have only managed a .164 percentage, ranking 10th in the MWC.
One looming question will be how the young SDSU team will fare against the competitive MW conference teams.
"We are just a young team that is still learning and we cannot put pressure as conference or non-conference games," Collins-Parker said. "We just have to play every game to win and get better every time we go on the floor."
The match is set to take place at 6 p.m. (PST) at the UniWyo Sports Complex. It can be viewed on the Mountain Digital Network with links on www.goaztecs.com or www.TheMWC.com.