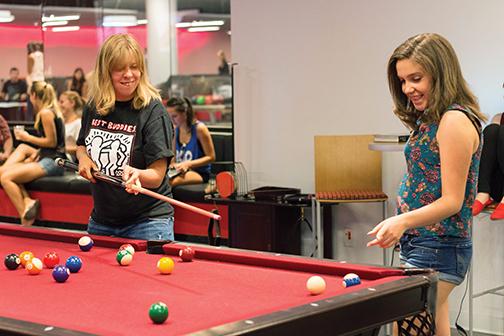 Anthony K. Shriver founded Best Buddies International in 1989. This organization spans the U.S., with 26 separate states supporting local chapters in their schools. According to their website, Best Buddies International is "dedicated to establishing a global volunteer movement that creates opportunities for one-to-one friendships, integrated employment and leadership development for people with intellectual and developmental disabilities." This means that a person who has an intellectual and developmental disability and a person who does not are paired together.
Here at San Diego State, Best Buddies fosters friendships between young adults with an IDD and SDSU students who do not have an IDD. The organization works with San Diego Transition Resources for Adult Community Education. The TRACE program helps find people with IDD's who are interested in joining Best Buddies. Then, the person is paired with an SDSU student. Through fun group events, such as bowling, mini-golfing and movie nights, the pair can begin to develop a friendship. An SDSU student can join the club as an associate member as well. An associate member is someone who joins Best Buddies and is not paired up. These members are expected to attend the events and meetings held once a month. Peer buddies who are paired are also expected to attend events, as well as meet and communicate with each other once a month in addition to the group outings.
Psychology and child family development senior Jane Kwon is the president of SDSU's chapter of Best Buddies. Alongside her studies, she helped to reinstate the group at SDSU last year. For Kwon, Best Buddies has provided a message about the importance of friendship.
"For me, the biggest thing I have gotten from Best Buddies is the reminder about how genuinely happy human interaction and friendship can make people," Kwon said.
In addition to building friendships, Best Buddies assists individuals with an IDD who may be struggling to develop essential skills, such as cooking, cleaning or using public transportation. Best Buddies does not focus only on assisting the individual with the IDD. It also helps students without disabilities develop a greater understanding about people who are facing challenges that may be different than the ones they face.
"For the peer buddies without an IDD, it is definitely a helpful club because some of them haven't been in settings where they interact with people with disabilities," Kwon said.
The SDSU chapter is just a small part of a larger organization. Many of the other San Diego Best Buddies chapters are located in high schools around the county. In fact, SDSU contains the only college chapter of Best Buddies in San Diego. Best Buddies International is the name of the entire organization. It works on a larger scale to promote friendships, provide resources and develop chapters in schools around the country. Right now, Best Buddies International is working to develop a wider understanding about the hurtful and negative connotations associated with the word "retarded."
"Best Buddies International promotes Spread the Word to End the Word," Kwon said. "This spreads the word that using the 'r-word' is not politically correct and hurts the intellectually disabled community."
Kwon is an advocate for this campaign within the SDSU chapter.
"Best Buddies reminds people without disabilities that just because someone has a disability, whether intellectual or physical, it doesn't mean they aren't fully human."
Best Buddies is a meaningful organization that not only develops friendships and life skills within each individual chapter, but also increases social awareness surrounding the lives of people with intellectual disabilities in the community at large.