SDSU police, students talk campus safety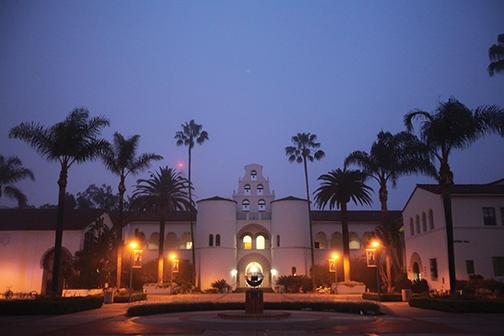 The safety of students walking on and around campus at night has been a popular topic of discussion since the semester began. Recently, the disappearance of a University of Virginia student, Hannah Graham, has attracted media attention and has caused college campus safety concerns nationwide.
At San Diego State, students have mixed feelings about how safe they feel when walking on and around campus at night.
"I feel safe when I am walking in places with a lot of light and other people around me," pre-nursing sophomore Savannah Eshelman said. "But when I am by myself and I feel secluded, then I feel really unsafe. I am not scared or panicking, I am just a little apprehensive."
Pre-nursing sophomore Aerieldeanne Aragona said there could be a heightened sense of fear because of the fact that SDSU is an open campus.
"In the (Conrad Prebys Aztec Student Union) I feel kind of scared … because it is really public, I feel like something could happen to me," she said. "SDSU is an open campus so anyone could walk on. But I feel moderately safe over all."
The SDSU Police Department has encouraged students to walk in groups as much as possible. Students are advised to not be distracted by hand held devices, according to SDSUPD's Fall 2014 Safety Message.
"Walking alone is not inherently dangerous but it is definitely safer to walk with groups and be aware of surroundings," SDSUPD Community Resource Officer and Corporal Mark Peterson said.
Students are also encouraged to keep an eye out for any suspicious behavior and report it to the police department immediately.
"If something does not seem right, it is usually because something is not right," Peterson said. "We would much rather be called out and find out something is absolutely nothing at all, then not be called out and have some type of preventable tragedy occur."
SDSUPD offers an escort service to provide students, faculty and staff an alternative option to walking around campus at night. This resource aims to be a reassuring, safe option.
But there have been mixed reviews about the reliability of the escort service.
"They told me that they would be with me in 40 minutes," business management freshman Andrea Chavez told The Daily Aztec in September. "I decided to just walk to my car without them, by the time I got there they still hadn't gotten to me. They're no help."
However, fellow student Eshelman had a positive experience.
"A police officer picked me up and drove me back to my place," Eshelman said. "She was really polite and I felt safe."
To request an escort, students can call (619) 594-6659 from 5 to 11 p.m. or (619) 594-6659 after 11 p.m. SDSUPD also offers other services, such as the Red and Black Shuttle and the Library Shuttle. More information can be found on SDSUPD's website.