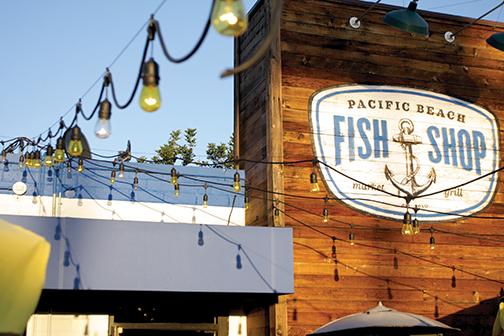 After spending a day walking the boardwalk at Pacific Beach it is easy to simply just grab some food at the closest restaurant rather than exploring some local gems. But just one suntan, a shopping bag and five-minute car ride away from  the beach is the perfect place to unwind and enjoy a bite to eat.
The Pacific Beach Fish Shop is full of amazing food, friendly people and a relaxing atmosphere.
While walking in to the restaurant, my group was greeted by a giant fish hanging at the entrance and an outdoor seating area complete with a bar.  While close to the street, the seating manages to be cozy and friendly and there is even a fire pit for chillier nights.
Our party was made up of eclectic tastes that were represented in our meal orders. Around the table, clam chowder, chicken nuggets and Mahi-Mahi fish tacos were tasted and shared. I'm partial to the Mahi-Mahi tacos with fish shop seasoning  and chipotle glaze drizzled on top. With its zesty flavors  and sweet kick the tacos are incomparable.
The clam chowder and chicken nuggets are a great alternative to those not in the mood for fish tacos.
"Even though it's a fish shop they had great food for other people and they made the chicken strips just as good considering that they specialize in fish tacos," journalism freshman Brianna Yoon said.
While the price for tacos can be intimidating at first glance of the board, I was quick to realize that the amount of fish they pile on top of the taco was enough to keep me full after a long day at the beach.
The clam chowder also came in a fairly decent size and was warm and cozy, and exactly how clam chowder should be.
As someone who came from the Bay Area and often visited Santa Cruz, Pier 39 and the Fisherman's Warf, I can confirm that Pacific Beach Fish Shop does seafood right.