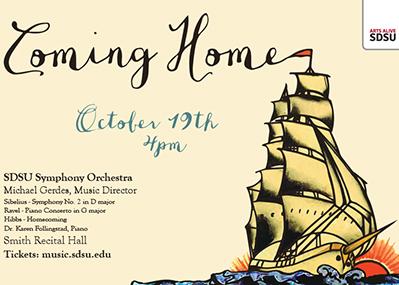 A recent influx of reality television shows and auto-tuned artists poses a challenge to find any true talent in today's society. However, there is no question where the real skill lies with San Diego State's Symphony Orchestra.
This semester, SDSU's School of Music and Dance has had a packed schedule of performances, including a free concert this past weekend by SDSU's very own Wind Symphony. The Wind Symphony's "Concert in the Plaza" brought a crowd of eager listeners to the Performing Arts Plaza to enjoy classics such as "God Bless America" and "The Stars and Stripes Forever." The show was a great precursor to get SDSU students and other San Diegans alike excited for the SDSU Symphony Orchestra's first major performance this semester, "Coming Home."
Professor Michael Gerdes, who is in his second season as Director of Orchestras at SDSU, hails the performance as "an inspiring afternoon of music making" that squeezes an entire lifetime's worth of emotions into an hour performance."
"Coming Home" follows a theme of reflection and emotion, emphasizing the places where each artist comes from. The performance will feature the world premiere of a work titled "Homecoming" composed by Dr. Cory Hibbs, a member of the SDSU School of Music faculty. The piece is about Hibbs' returning to San Diego after living in New York City.
The performance will also feature Ravel's "Piano Concerto in G" which will be accompanied by Dr. Karen Follingstad, another faculty member of the SDSU School of Music. Gerdes deemed the Ravel's slow movement as one of the most heartbreakingly beautiful works that has ever been written, and said that the students were able to learn a great deal while working with Dr. Follingstad on the piece.
Director Gerdes explained it is important in his students' progression as musicians that they not only learn classic pieces such as Symphony No. 2 by Sibelius, a dramatic repertoire featured in the last 15 minutes of the performance, but also learn new pieces perhaps even by artists they know personally.
After weeks of exhausting but life affirming rehearsal, symphony orchestra musicians such as SDSU junior Joshua Stewart, a Music Performance major who has been a part of the orchestra for three years, are more than ready to perform in front of an audience and hopefully a collection of their peers. Stewart, a seat trumpet player, confided that his peers should arrive early because the show will be crowded and that they should be ready to hear romantic music that has the ability to "heal the soul."
SDSU Symphony Orchestra's "Coming Home" performance will be held from 4-6 p.m. this Sunday, Oct. 19 on campus at the Smith Recital Hall.
Tickets are $10 for general admission and $5 for students. If you would like to hear more from the Symphony Orchestra, be on the lookout for upcoming performances this semester, such as "Amelia Goes to the Ball" with a Lyric Opera Theatre and "Les Misérables" a combined performance with SDSU's School of Theatre, Television and Film, Chamber Choir and Concert Choir.