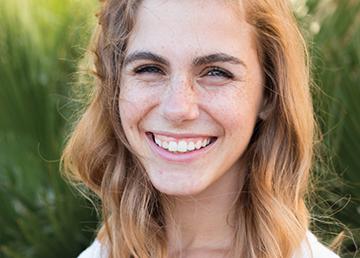 A year ago, English freshman Julia Grigorian was suffering from anorexia and never imagined attending San Diego State.
After creating a blog dedicated to her stuggle with an eating disorder, Grigorian is now in a heathy state of mind. In fact, her blog, has not only helped her recover, it has reached thousands of readers trying to overcome the same disease. The success of her blog has even caught the attention of Seventeen Magazine and a nonprofit organization, Project Heal.
Grigorian became anorexic during her junior year of high school in Los Angeles in 2013. The pressures of high school started to take a toll on her.
"I had so much going on and there was a lot out of my control," Grigorian said. "I was being asked to start looking at colleges and making all these big decisions, but I was so overwhelmed."
One aspect of her life Grigorian knew she could control was body image. As a result, Grigorian started running. Later, another eating disorder developed, orthorexia, which is an obsession with only eating healthy foods combined with the need to compulsively exercise.
"I started to take up running and people started referring to me as 'the runner,'" Grigorian said. "I liked that and I liked feeling I was worth something."
Grigorian began paying closer attention to her physical appearance and it soon became a coping mechanism in order to balance external stress. After surviving her junior year of high school, Grigorian hit her lowest weight the summer before becoming a senior. Within two months, Grigorian lost 30 pounds.
"As awful as it sounds, I began to worship my body and food rather than worshipping God," Grigorian said.
Feeling alone and not being able to communicate her personal issues with the people around her, Grigorian began to have thoughts of death.
"For a long time, I was ready to die," Grigorian said. "I saw no other life and I didn't want to get better. I thought God had given up on me and I had given up on myself. I never saw a life past my eating disorder."
In order to pull herself out of such a dark place, Grigorian turned to an unconventional source: the Internet.
Creating a blog began as a place of comfort for Grigorian. It was something she turned to in order to express feelings of self-doubt and vent frustrations. The blog later led her to recovery.
"It was a lot of my internal thoughts and me processing how I was going to move on in this time of my life," Grigorian said.
After recovering, the blog transformed into a small community for young women. Grigorian's goal was to help others visualize a life after an eating disorder by sharing personal struggles and stories along the way.
"Once I truly wanted to recover, I used it as a motivation for others," Grigorian said. "I wanted people to know it is possible to move past such a dark time in your life."
Although her blog, 'Lord Still Loves Me' started in September 2013, Grigorian did not gain a following until she posted a "Transformation Tuesday" picture displaying her journey to recover. On the left side of the photo is a picture of Grigorian at her lowest weight, on the right, is a picture of Grigorian gaining her weight back.
Now, the inspiring "Transformation Tuesday" photo has more than 160,000 notes on Tumblr and has been shared on Facebook and Twitter. Her blog has reached more than 7,000 people locally, nationally and even internationally. Grigorian has recieved more than 300 hand written letters and more than one thousand emails from readers. People from around the world began contacting Grigorian asking for advice and thanking her for sharing her story.
"It's the most humbling thing ever to know I am just sharing my story with whoever will listen and I'm motivating and inspiring people," Grigorian said.
Along with her blog, Grigorian has also started a 'Lord Still Loves Ice Cream' hashtag on Instagram, which has transformed into a small movement for young women to bring awareness to eating disorders. The hashtag now has more than 3,000 pictures shared, with every post expressing a different journey to recovery.
"It's an incredible thing to know I am impacting people I've never even met," Grigorian said. "I love social media for that, the way it can bring people together."
Grigorian said she is happy, healthy and enjoying life. In fact, SDSU was Grigorian's dream school. A year ago, she thought her dream faded. Through recovery, Grigorian remembered having a career and being successful were important goals to her before developing an eating disorder.
"Sometimes I walk around campus, look around and think it's crazy I'm here and I'm alive and I'm healthy and I'm happy," Grigorian said.
Although Grigorian confessed to being less active online recently, she admits to enjoying experiences and meeting new people in a new city.
"My blog was more of a place I would go to when I was strugging, or had a big revelation," Grigorian said. "Now that I am here, I'm more focused on making friendships, living in the present moment and enjoying life."
However, she does not intend to stop blogging or sharing her story. Grigorian wants to continue inspiring young women around the world by setting an example that there is a life after an eating disorder.
"I want girls to realize that more people feel this way than is verbalized to this world," Grigorian said. "I just hope anyone that reads my blog knows that it's possible to get through it and live a happy life."
Grigorian is currently being contacted by the body image section of Seventeen Magazine in hopes of bringing more awareness to eating disorders nationally and promote healthy fitness and eating.
Project Heal has also been in contact with Grigorian. Project Heal is a nonprofit organization that raises money for young adults and provides them with treatment in order to recover from an eating disorder. Grigorian is participating in their recent picture campaign, where young women are encouraged to post pictures or videos of what recovery means to them.
Grigorian plans to become a high school English teacher and wants continue to help students recover from the difficult times in their life. For now, she wants people to be more conscientious of the way they treat one another.
Grigorian is thankful she is happy and healthy today, and is appreciative God did not give up on her.
"I went through this horrible time and I completely turned away from God. He's still there for me and accepting of my faults."