Across the pond and onto the Mesa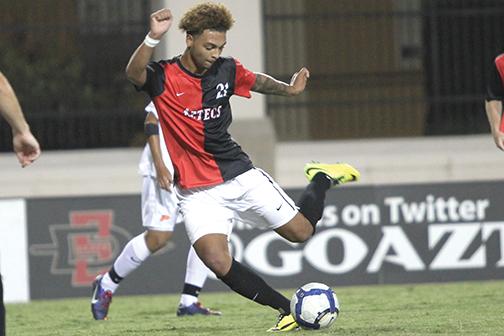 Over the course of its 46-year history, the San Diego State men's soccer team is known for 15 straight winning seasons and a trip to the 1987 NCAA championship game.
Its ability to attract talent from the birthplace of the sport — England — is equally noteworthy.
This year's elusive English soccer talent comes in the form of sophomore forward Forrayah Bass, who was born and raised in rainy Leeds, England.
According to Bass, he is the son of parents who share a love for the sport. Bass' father was on track to a professional career before suffering an injury that rendered him unable to compete. As a result, Bass' parents poured their love of the sport into their son.
As best as he can remember, Bass began his soccer journey when he was 5 years old. A short year later, Bass entered into academy level training with the English Premier League's Leeds United.
As a 6-year-old, Bass was recognized as having great potential by a team that played in the highest league in England. Bass would remain with that team until he was 16.
"It was a great experience being around the professional environment, some of the best coaches and some of the well-known players that are still playing today," Bass said.
After age 16, Bass was eligible for a two-year apprenticeship with Leeds before the club had to decide whether or not they would offer him a professional contract. Leeds, an organization with a great deal of money, opted to forgo the apprenticeship offer and instead invest its money in already developed talent.
After departing from Leeds, Bass found himself with the opportunity to accept an apprenticeship from a nearby team, the Bradford City Bantams.
Having already completed high school by 16, which is customary in England, Bass found himself engulfed in an apprenticeship that was ripe with the rigors of a professional soccer player.
"It was every day," Bass said. "On Wednesdays we would go into college, and do just a little bit of work. We would play on Saturdays and get Sundays off, and then back in on Monday."
England is well known for its intricate Football Association strata, which includes thousands of amateur and professional teams. The teams Bass played for were accounted for the top four levels of the league. He was considered talented enough to train with two of the top 93 teams in England.
The English Football Association is well known for the FA Cup, which is a tournament where any team has the opportunity to become the champion. In theory, a group of garbage men and school teachers have the opportunity to win a championship over recognizable teams, such as Manchester United.
On Dec. 18, 2012, 17-year-old Bass took the field as left back for Bradford City in the FA Cup. Outmatched by their opponents from Brentford, Bass and his teammates battled Brentford through 90 minutes of full time, plus two 15-minute periods of extra time. It was 120 minutes of unadulterated English football. Bass was substituted for after the 105th minute in the 4-2 defeat.
Bass was nervous with his first taste of a professional match. He remembers playing at Brentford's stadium against a team from a higher league, running with grown men and having expletives lobbed at him by fans while attempting a throw-in.
He would stay on Bradford City's roster until his contract expired in April. The team offered him another contract, but informed him that his play would be limited.
Considering his options, Bass took his services across the Atlantic to play soccer and start his college experience at Louisburg College in North Carolina. During his only season at Louisburg College, Bass played in 10 games with five goals. Two of those goals were game-winners.
In light of his descent from professional level soccer to college, he still wanted to play a high standard of soccer.
In his year at Louisburg College, Bass constantly emailed coaches at Division I college soccer programs with game footage.
After sending game footage to coaches on the west coast, SDSU being one of them, Bass started receiving offers.
"I wanted to come to California, the west coast," Bass said, "The main issue was they didn't know who I was."
After visiting the SDSU men's soccer team last spring and touring the beaches, Bass decided SDSU was the right fit.
This year Bass, with his self-described attacking style, has helped lead SDSU to a 7-6 record with three goals and four assists in 11 games. In addition, he boasts the second-highest shot-on-goal percentage of any player on this year's Aztec soccer team.