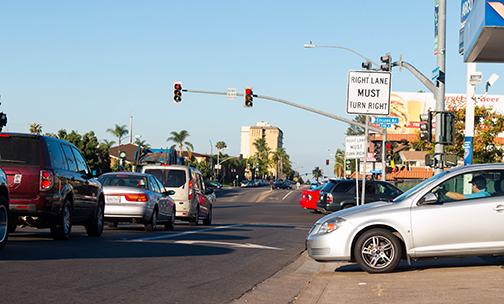 Megan Wood, Senior Staff Photographer
Bike safety in the neighboring communities of San Diego State has the SDSU Police Department concerned.
SDSU Community Resource Officer Mark Peterson said that traffic collisions involving cyclists around the university have gotten a lot worse in the past year, and it isn't necessarily the driver's fault. This semester, Peterson has received approximately seven phone calls and several emails about cyclists in the SDSU area that are abusing traffic laws.
"When a collision occurs, it's usually the cyclist who is at fault," Peterson said. "The driver also has some psychological traumas as well because he or she is in a collision that could seriously hurt someone."
He said cyclists should keep in mind that when drivers are at a red light and they're turning right, all their attention is generally to the left, so the driver won't always see a cyclist coming in their direction from their right.
Peterson said the most common thing he sees is cyclists violating traffic laws by running red lights while in the bike lane. A cyclist who runs a red light can receive a ticket. According to the Department of Motor Vehicles, traffic violators who run a red light can expect to be fined $370 or more.
Aside from violating the traffic laws, Peterson said he sees students cycling without helmets more often than not, which is a major concern for the university police. According to a brochure on bicycle and pedestrian safety by the Traffic Safe Communities Network, wearing a helmet while cycling can reduce the risk of serious head injury by 85 percent. Although wearing a helmet is strongly recommended, the protective gear is not required for anyone 18 years or older.
While SDSUPD is concerned with the safety of students, some Aztecs don't care to wear a helmet.
"I don't like wearing a helmet because it's ugly-looking and annoying to carry around," SDSU senior Briona Plata said.
Peterson said that the cars traveling down Montezuma Road or College Avenue are driving anywhere from 35 to 45 mph, and using the proper equipment could keep unfortunate traffic accidents from being life threatening.
Peterson said laws and regulations are there for safety, and he encourages students to abide by them.
"In the end, the main goal is for both students and residents to be happy living side by side," Peterson said.
Through education and enforcement, he said he hopes to bring light to the importance of cycling safely on the roadways.