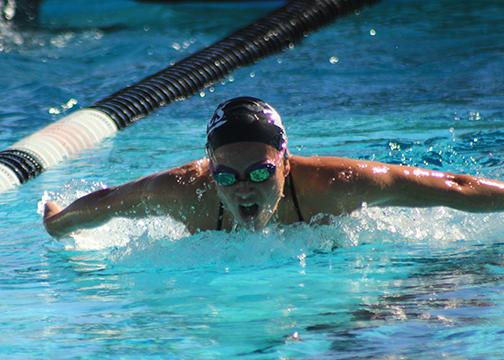 The San Diego State swimmers took first place in 12 of the 14 swimming events in Saturday's competition against the University of Hawaii.
The team proved it was strong all around by having nine different swimmers taking first place in 10 different events.
Sophomore Anika Apostalon was the only swimmer to finish first in two events this week, beating out her competitors in both the 100-meter freestyle and the 200-meter freestyle events. She was also a member of the 200-meter freestyle relay team. The team, which also included senior Chelsea Bailey and juniors Taylor Johnson and Natilee Ruiz set a new record for the event at the Aztec Aquaplex.
Swimmers continued setting records with four Aztecs finishing with times that ranked to 10 finishes at the Aztec Aquaplex. Freshman Summer Harrison took first in the 100-meter fly with the seventh fastest recorded time for that event at the Aztec Aquaplex. Bailey was victorious in the 50-meter freestyle with the second fastest recorded time, senior Emilie Campbell took the 200-meter breaststroke and finished with the ninth best time and Ruiz continued the trend by beating everybody in the 100-meter backstroke, racking up the ninth fastest total time for that event at home.
The dive team really came out strong in their first meet of the season. Two divers, sophomore Isabelle Choquehuanca and freshman Alex Caplan qualified for the NCAA Zone Meet. Choquehuanca qualified for the meet in two different, the 1-meter and the 3-meter. Choquehuanca took first place in the 1-meter event and second in the 3-meter.
The Aztecs next meet is Nov. 1 against Colorado State University and University of Idaho at Colorado State's Moby Pool.