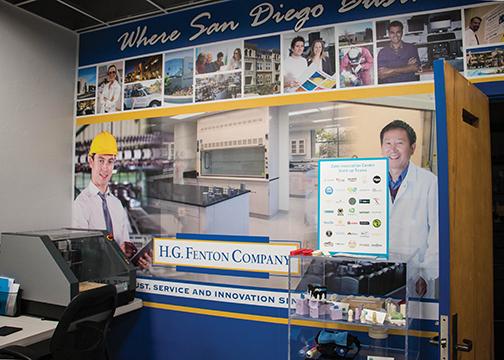 Megan Wood, Senior Staff Photographer
San Diego State's Zahn Innovation Center recently unveiled a lab that offers a variety of tools to help teams bring their ideas to life.
The H.G. Fenton Company Idea Lab features a 3-D printer, laser cutter, computer numerical control mill and computer numerical control router, among other tools. H.G. Fenton Company, a real estate business based in San Diego, entirely funded the $100,000 lab.
"This is critical for our entrepreneurs because an idea is really only an idea until you can bring it to life with a physical product," Zahn Center's Executive Director Cathy Pucher said. "Part of what we do at the Zahn Center is validating people's ideas, allowing them to build something based on their idea, so that they can show people and continue to make their product or idea CNC router better."
These companies can all potentially benefit from various tools in the lab as they can create prototypes of their ideas, which in turn can create better products and attract both customers and investors. 3-D printers can quickly create a prototype of nearly any shape according to specifications put in the machine. CNC routers and mills work in a similar way, through measurements that are plugged into a program that tells the machine what shape to cut in the metal, wood, plastic or other material being used.
The tools in the lab provide a resource for students, but many may find it complicated to work the machines. The Zahn Center has brought on lab technicians to help teams operate and learn about the equipment. The two technicians have master's degrees in mechanical engineering.
The Zahn Center unveiled the lab on Thursday, Oct. 23. Pucher estimated approximately 60 people attended, including  Zahn Advisory Board members and several team members, and H.G. Fenton Company representatives and their guests.
There were two tours of the lab and working space, as lab technicians explained the various tools and how they could be used.
"We're very confident that we can bring to life just about any mechanically-based idea someone puts forth," Pucher said.
Hype Audio, Soft Chomp, and ShredLights — Zahn Center student teams — attended the event to explain their ideas.
Hype Audio is a student-led company that creates waterproof headphones for surfers. Soft Chomp is an infant toothbrush that is gentle enough on babies' developing gums, but allows parents not to worry about biting. ShredLights is a company that creates headlights for skateboarders to see in the dark and avoid potentially dangerous obstacles.
"It all starts by taking the product you envision and creating a product that the customer can hold, use and love. It's a very critical step in any business, and we in the lab help provide that for our teams," Pucher said.
Pucher encourages people to visit the Zahn Center and become involved.