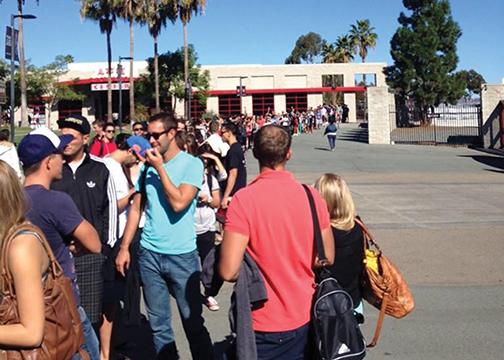 Patrick Carr, Senior Staff Writer
Students lining up for free San Diego State men's basketball tickets capture local TV news cameras. And for some Aztecs, it's the reason they chose to attend this university. But free tickets need to end because college athletics is becoming more costly, and SDSU isn't positioned to keep winning without drastically increasing its revenue.
SDSU reserves approximately 2,500 student tickets for each game, according to the athletics department. Those tickets are free, regardless of whether the opponent is a preseason scrub or a MWC rival. Giving it away for free makes SDSU unique among universities that either have big time sports programs, or want to have them.
California State University, Fresno is one Mountain West school already charging students. So far, it charges only for football — $60 for a season pass, or the equivalent of $10 per home game. With 4,000 student tickets per game, according to its website, that's more free money for the program than SDSU receives charging nothing. And the Power Five teams make more. University of California, Los Angeles charges its students $15 per game for both football and men's basketball. This is part of the price for sports notoriety in this century.
All that said, SDSU won't be able to charge for football. Despite football being the show pony for most universities, Aztec football isn't. The small crowd it regularly draws now will shrink further if SDSU starts charging students to watch a program mired in the inconsequential world of Potato Bowls.
But men's basketball is hot. Sports networks love showing the feverous atmosphere inside Viejas Arena, and that's completely due to "The Show." Charging them won't clear out the arena. In fact, it'll increase the passion. While every student paying tuition and fees is augmenting Aztec athletics, not paying for a ticket leaves the impression that SDSU devalues student investment. If the game is free, it can't be that important.
The math is simple. With 2,500 tickets per game, and 18 home games in 2015, SDSU would make $450,000 by charging only $10 per ticket per game. But it could make more by applying sound business strategies. Professional sports teams now structure ticket prices by demand. For example, the San Diego Padres charge more for games against the Los Angeles Dodgers than it does for the Florida Marlins. Dodgers games continue to sell out, Marlins games don't. Therefore, the Padres could — and probably will — charge more for future games against the Dodgers.
Charging students will allow SDSU to understand demand, and that education will only help fund the athletics department for when it needs money to pay for the type of top-shelf talent that men's basketball coach Steve Fisher now gets by reputation. Ultimately, it'll help fund a new football stadium once the San Diego Chargers leave Qualcomm Stadium and the city levels it for retail and business properties.
No one likes the idea of paying more. A state school such as SDSU has students with greater economic needs than a private school such as Stanford University. However, SDSU seems serious about becoming a major player in college athletics.
That means more money has to come in to properly position it when the Power Five starts paying players. If it isn't going to come from charging the students who go to the games, then it's going to come from the entire student body through tuition hikes. Those hikes are coming either way, but my proposal offsets that hike by adding revenue from student tickets.
In the bad business model that sports often are, it's the best way to hurt the student body less.