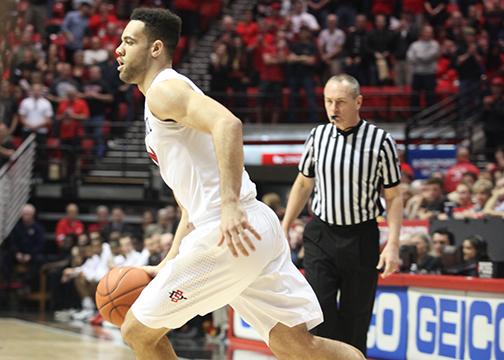 The San Diego State men's basketball team is entering one of the most anticipated seasons in program history. After a Sweet Sixteen run in 2014, head coach Steve Fisher and the Aztecs believe they are a team with Final Four talent.
Showered with preseason accolades, SDSU's preseason rankings of 16th and 17th respectively in the Associated Press Top 25 and the USA Today Coaches Poll are certainly the most notable. In fact, 16th is the highest preseason ranking in any poll that SDSU has earned in the history of the program.
The Aztecs are the lone representative of both the Mountain West Conference and the great state of California in either poll. In addition to the national recognition, 34 of 35 Mountain West Conference media voters tabbed the Aztecs as their first place team on their preseason ballot. Conference media also named senior Dwayne Polee II and junior Winston Shepard to the preseason all-conference team.
The program has played itself into the Top-25 conversation multiple times in recent years, but it has never garnered this level of respect before the start of a season.
"Pressure is good if you know how to manage it," Fisher said at the season-opening press conference in late September. "We're moving past the stage where we get a hall pass saying 'Well, wait until next year.'"
There will be no shortage of interest this time around, as "next year" has arrived for the team that won the conference title in 2014 despite being picked to finish fourth. Leading scorer Xavier Thames and leading rebounder Josh Davis have since moved on to professional basketball careers, leaving behind many questions on the offensive side of the ball.
Seniors J.J. O'Brien, Polee and Aqeel Quinn have returned to lead this Aztec team in what will be the last hoorah of their collegiate careers. Other familiar faces include some key contributors from last season's tournament run such as juniors Skylar Spencer and Shepard and sophomore Matt Shrigley.
As far as new faces go, the fruits of ESPN's No. 17-ranked 2014 recruiting class have arrived on Montezuma Mesa in freshmen Zylan Cheatham, Trey Kell, Malik Pope and Kevin Zabo. Aztec fans will have to wait some time before they see all four in action, as Cheatham and Pope work to return from injury. Cheatham isn't expected back until January after having surgery to repair a break in his foot in early September. Pope, who broke his leg twice in high school and hasn't played a game of competitive basketball in more than 18 months, has a "floating" timetable and is slowly being eased into full speed, coach Fisher said.
Not many people have had the privilege of watching Kell and Zabo in practice this fall, but they have thoroughly impressed their teammates and coaching staff.
"Trey Kell and (Kevin) Zabo are a lot better than people think," Shepard said at the Mountain West Digital Tip-Off.
"Zabo and Trey have been amazing so far," O'Brien added. "They're going to be big parts of this team. I know they had high rankings coming in, but their ability to play is something else."
Junior forward Angelo Chol, who transferred to SDSU from the University of Arizona in 2013, will make his Aztec debut this season after sitting out in last year due to NCAA transfer rules.
SDSU's medley of veterans and young talent will be working together toward achieving their team goal of a Final Four appearance. The Aztecs will begin their quest for a sixth consecutive tournament appearance on Nov. 14 when they welcome California State University, Northridge into the unfriendly confines of Viejas Arena.