Alumnus strums his way to success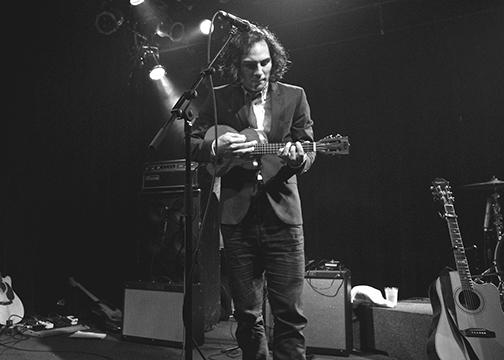 Most musicians wish to be able to touch people's lives through their music, but not everyone succeeds. This wish did come true, however, for underground indie songwriter Jesse Daniel Edwards.
Music entered Edwards' life at a very young age. Being the eldest of nine children, it was hard to entertain them all.
"My first memory is playing on this keyboard that my mom got at a garage sale in Rancho Bernardo, and at that time a Game Boy was pretty popular but we were never allowed to have that," Edwards said. "We didn't have TV or video games or all the other things kids had to entertain themselves, so music was kind of something we would use to keep entertained and spend time together as a family."
Edwards and his brother had a band based out of Nashville that eventually came to an end, which made them decide to relocate back to San Diego. They attempted to pursue a Los Angeles deal that was on the table, but unfortunately it ended up not being a good fit. As time passed, Edwards ended up working at a music camp in the mountains but continued to get pushed by a friend to carry on with music.
"A friend of mine in Long Beach kept nagging me to get out of the mountain and do events, which I was very hesitant to do," he said. "He eventually talked me into doing these events with him, and I met the band through him and they were kind of mutual friends."
The band became known as Dressed Gentleman and from then on it's been perfect chemistry.
"We started meeting up and talking about music, and as all this is happening you're growing together and getting to know each other," Edwards said. "I feel like I got pretty lucky these guys are great musicians and good character, which I think is most important."
Many musicians have the goal to become successful with a huge amount of money, but Edwards had a different goal in mind with his music.
"When I was young I wanted to be a rock star, but as I've gotten older and saw what the music industry is like, the goal became to grow," he said. "To see that music is a part of people's live and affects people so positively, the goal was to really inspire and make the best music possible that is really going to touch people and mean something to someone when they hear it."
Edwards is currently in the process of releasing his new album, "American Dreaming," on Dec. 7.
"This 'American Dreaming' we are recording is just like everything else I've done," Edwards said. "It questions about life and death and what is meaningful to us. As a songwriter you're always looking at something with a frame around it to see how you can put it in a few words to form a chorus."
Edwards will perform at Lestat's West on Nov. 21, and his meaningful music should inspire to reflect on life.
"I don't have easy songs that are just about nothing." Edwards said. "All my songs are meant to fulfill a feeling very strongly and put it into a song."