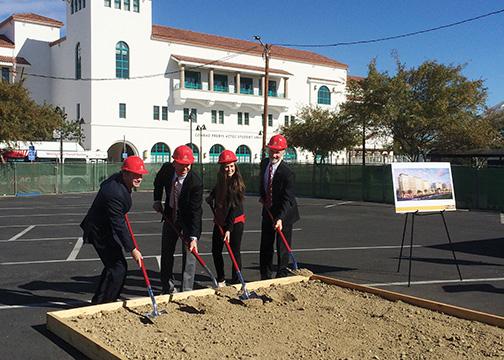 David Hernandez, News Editor
San Diego State broke ground on the $143 million housing and retail project South Campus Plaza on Nov. 19.
South Campus Plaza will connect the university with its surrounding community, SDSU President Elliot Hirshman said during the groundbreaking ceremony.
"Over the last several years we've been renovating and enhancing the campus," Hirshman said. "South Campus Plaza will continue this tradition, enhancing the quality of life of our entire community."
Vice President for Student Affairs Eric Rivera shared a similar sentiment.
"When you look at the new student union and what that has done to transform the campus life, I think South Campus Plaza will help transform the community life," Rivera said.
The site is located south of the SDSU Transit Center, parallel to College Avenue and between Hardy Avenue and Montezuma Road.
The project will include two residential buildings above a ground-level restaurant, grocery store and other retail options.
The residence halls will offer double-occupancy rooms for more than 600 students, primarily freshmen. It will also include apartments for residential education staff and temporary scholars.
University Architect Bob Schulz said the residential towers will be ready to be occupied for the fall 2016 semester.
A 300-space parking structure will accommodate customers of South Campus Plaza.
The university is still negotiating with future tenants.
South Campus Plaza aims to be suitable for pedestrians and bicyclists by including wide sidewalks and bicycle amenities.
The project will be LEED Silver certified and will include measures to reduce water use.
Schulz previously said demand for housing, especially among freshmen, exceeds the supply, pointing to high application numbers.
For the fall 2014 semester, SDSU received 77,959 applications from undergraduate students, outnumbering the previous year's all-time high 74,458 applications from freshmen and transfer students.
"No matter what visitor comes to visit from other campuses, they're always impressed with the look and the feel of San Diego State University," Rivera said. "When we give tours, and when prospective students look, that's one of the things that always stands out, and for the families too."
He added that facilities and landscape add to a student's experience at SDSU.
California State University revenue bonds will fund the project and will be paid back with the generated revenue from retail, housing and parking.
The CSU Board of Trustees unanimously approved the project in the spring.