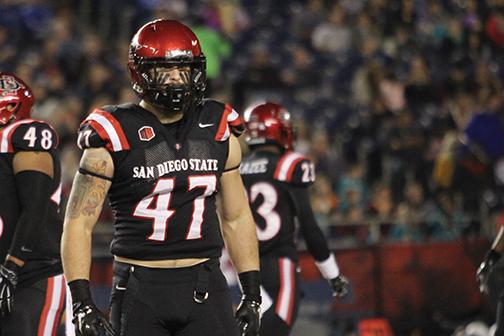 Sarah Smith, Staff Photographer
The San Diego State Aztecs (6-5, 4-3 Mountain West) became bowl eligible for the fifth straight season after they beat the Air Force Academy Falcons 30-14 Friday night at Qualcomm Stadium.
SDSU scored 17 unanswered points coming out of halftime, silencing its critics after dropping a 20-0 lead against Boise State University last week. The Aztecs played arguably their most complete game on offense all season against Air Force.
Their defense wasn't too shabby either.
Led by sophomore linebacker Calvin Munson who had 10 tackles and a forced fumble, the Aztecs gave the No. 7 rushing team in the country fits all night. They held the Falcons to 140 yards on the ground, more than 100 yards below their season average.
"You don't hold an Air Force team to 140 yards rushing," head coach Rocky Long said at the post-game press conference. "Are you kidding me? And they had 189 yards passing and 80 of them were on one play. How can you play better?"
Munson put the game on ice for the Aztecs after he intercepted a pass from Air Force senior quarterback Kale Pearson with less than three minutes left in the game. He took the interception and ran it back 56 yards for a touchdown.
It wasn't all peachy for the Aztecs though on this matinee Friday showing.
Much like the game against Boise State, SDSU jumped out to an early lead before watching it disappear. Air Force came storming back in the second quarter, scoring two touchdowns to take a 14-13 lead.
SDSU was not about to let another game slip through their fingers though.
"Coach Long came in and said, 'Hey we got to keep going out there; we're not going to change anything. We are just going to keep playing our ball,'" Munson said.
Sophomore running back Donnel Pumphrey was quiet in the first half with just 57 rushing yards. However, Pumphrey turned it on in the second half, finishing the game with 132 yards on 27 carries and a key 14-yard rushing touchdown in the third quarter.
Pumphrey has had games like that all season, but this week he credited an old friend for motivation.
"Honestly, Chad Young showed up on the sideline and he told me to push it up, and that's what I tried to do," Pumphrey said of his former teammate.
Unlike most games this season, it was not all on Pumphrey to shoulder the load for the Aztecs offense.
Senior quarterback Quinn Kaehler had his best game of the year, throwing for a season-high 326 yards while adding a 14-yard touchdown pass to senior fullback Adam Roberts in the first quarter.
A lot of Kaehler's success can be credited to senior wide receiver Ezell Ruffin who spent his Friday night making circus catches look routine. Ruffin finished the night with a season-high 126 yards on seven receptions.
"I'm getting back in the rhythm of things, being out six weeks," Ruffin said. "You know, just working hard. Coming out, practicing hard, and when an opportunity is given, just go out there and make plays."
With the win, the Aztecs have become bowl eligible, but you won't see Long throwing any parties just yet.
"I think to make sure we're in a bowl game we have to win next week and I hope our players come ready to play," Long said. "You're not automatically in a bowl just because you're bowl eligible. I've been left (out of a bowl game) a few times."
The only thing standing in between SDSU and that bowl-clinching win are the California State University, San Jose Spartans (3-8, 2-5 MW), who they will face off against next Saturday at Qualcomm Stadium. Kickoff is at 12:30 p.m.