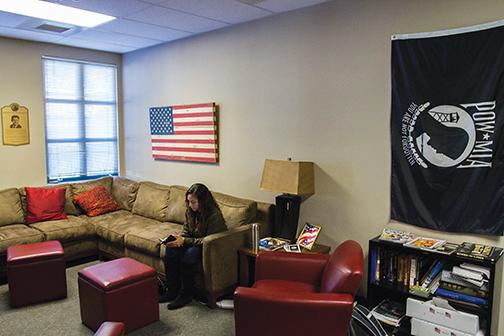 In a recent ranking, Military Times listed San Diego State as No. 38 in the best four-year schools for veterans to attend in 2015.
"SDSU's program is nationally renowned; cohorts of mine from other schools ask me about what we are doing all the time," on-campus VetSuccess Counselor Natacia Cordle said. "The proof is in the pudding, veterans come here because they hear about the great services we have for veterans."
The ranking was based on several factors. The schools were evaluated in five categories: university culture, academic quality, student support, academic policies and financial aid. The closest attention was paid to university culture and student support, according to the Military Times' methodology report.
Other aspects that factored into the rankings included the amount of staff support that schools give to veterans and veteran issues, the student-to-staff ratio, accreditation rating of the school and whether the school participated in the Yellow Ribbon Program.
The Yellow Ribbon Program is a partnership between the Veterans Affairs Department and schools where the difference in tuition is made up jointly between the VA and the school when the GI Bill fails to cover tuition.
Setting SDSU apart from other schools is the Veterans House. It is the first student veteran house on a college campus and offers a place for student veterans to socialize, meet and plan activities.
Josh Pederson, a double major in financial services and economics who graduated in 2013, is now in SDSU's financial and tax planning master's program. Pederson said he knew early on that SDSU would be a good fit for him as a student veteran.
After leaving the Marine Corps in 2004, Pederson was working and going to school part-time at a community college. When it came time to find a four-year school, SDSU was one of the schools he considered.
Pederson attended an information session for veterans in San Marcos organized by the California State University.
"I got a really good feeling of what SDSU was doing there," Pederson said. "SDSU presented what they were doing with and for veterans. They said who we need to talk to, and what we need to do, and it was a very good feeling knowing that this is all here for you."
The SDSU Veterans House was also a selling point for Pederson.
"It helps make a family-like atmosphere on campus," Pederson said. "You walk in, and there is an instant connection with others there from the bond of serving together, that is one of the things that really anchored me here and showed me that SDSU is a great place for veterans."
Pedersen said one of the most unexpected things for him was the fact that veterans are recognized as a cultural community on campus.
"To be recognized like that and to have the presence we do have on campus is very good for veterans," he said.
SDSU has more than 3,200 veterans, active duty, reservist and dependents of military members enrolled.