See the 'Grinch' at The Globe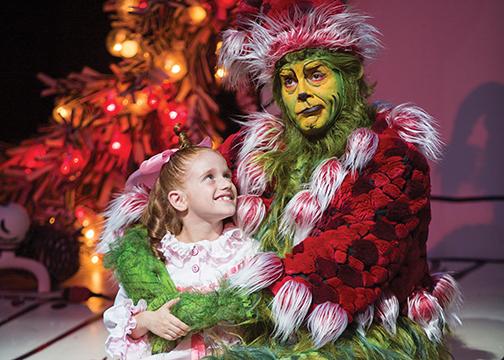 The Grinch is back at The Old Globe in Balboa Park. Directed by James Vásquez, the show is running for its 17th year on the Donald and Darlene Shiley Stage at The Old Globe Theatre. Running from now until Dec. 27 for the holidays, the show stars Broadway veteran Burke Moses as the Grinch. The show is based off of Dr. Suess' "How the Grinch Stole Christmas," and uses the same name. It is a show for all ages from young children to the older generations who are still young at heart; a show for the family during the holidays to delight and entertain.
Moses took the time recently to speak with The Daily Aztec, regarding both the show and what his plans are for off the stage, which might include a teaching career at the college level. He began his Broadway career in the role of Sky Masterson in the 1992 revival of "Guys and Dolls." He then followed up with that role, by originating the role of Gaston in Disney's "Beauty and the Beast" in 1994, not only on Broadway but also in the Los Angeles and West End Productions. This year has been a big year for him, as he not only performed in the role of JJ Brown in "The Unsinkable Molly Brown," but he also released a book, "Stanislavski Never Wore Tap Shoes: Musical Theater Acing Craft," in April of this last year.
When asked about the production of Dr. Suess' "How the Grinch Stole Christmas," and who he likes to perform for, he said each audience has it's charms.
When it comes to the younger children, they enjoy a more innocent humor, whereas the adults enjoy a subtle humor that the children would not understand. He also spoke of the costuming for the show. He said it takes, "approximately 25 minutes to get ready, when I get to the theater late, but I would prefer it to take 45 minutes."  The costuming for the Grinch has heavy face make up, along with a heavy and warm fur outfit, to give Moses that green look of the Grinch.
But Moses isn't as mean as his Grinch character. He has advice for students who dream of a career on the stage or working in that area of the entertainment business: Nothing comes to those who don't work for it.
His history, the book he just released and the accomplishments he's had on the stage have proven it.
"Anxiety just means that there is an opportunity presenting itself to you," he said.
With performances through Dec. 27, there are prime opportunities to go see the show, and this amazingly talented star.
See Moses as the Grinch now, and whatever opportunity brings him in the future.