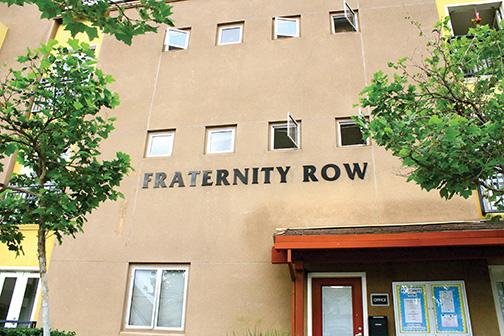 This semester, San Diego State's Sigma Alpha Epsilon fraternity will be on probation because of consistent health, safety and alcohol policy violations. The probation will last until Aug. 15.
SDSU's Division of Student Affairs announced these disciplinary actions against SAE at the conclusion of the 2014 fall semester.
"This probation includes the fraternity working with the Student Life Advisor Jordan Lewton, Assistant Director for Fraternity and Sorority Life Caryl Montero-Adams and the SAE national office and local advisors to develop a recruitment plan that will be implemented in fall 2015, as well as working with Lewton to insure that rosters accurately reflect chapter membership," Director of Student Life and Leadership Randy Timm said.
In addition the fraternity has suggested self-imposed probation from social events, a dry chapter house for the spring 2015 term and will opt out of spring recruitment during this upcoming term, according to SDSU News Center. The fraternity will be allowed to participate in Greek Week but, will need to get approval from the Office of Student Life and Leadership at least three weeks in advance to receive approval for other activities.
"During their time on probation, the organization will be taking this time to reflect, educate its members on and create best practices and policies for their organization with the goal of internal cultural change, and then train its members on the changes," Vice President for Student Affairs Eric Rivera said. "They will be working with their alumni and national office to create a stronger organization moving forward."
Because of controversy involving the Greek community in the fall 2014 semester, the university has been trying to change the Greek culture on campus through special trainings and educational events for the fraternities and sororities to positively impact the culture.
"All presidents and/or vice presidents from the council of each chapter participated in the TEAM retreat, regarding the culture of the community, how it impacts the culture of SDSU, sexual violence prevention and programming, as well as how to be a leader (and) change agent within their organization" Timm said.
This retreat is a step in creating more structure within the chapters and SDSU to establish or change policies and assist with administrative functions and plan and facilitate programming activities. The Student Life and Leadership Office also has monthly trainings and meetings with advisors to help better assist the chapters. They are working with all of the chapters to address sexual violence issues and create change within the organizations, Timm said.
SAE will host sexual assault trainings which will be available to the SDSU community by the end of the 2014-15 academic year. They will also implement two trainings a semester every semester, during which every member of the fraternity will be trained on sexual violence. The Greek organization has also pledged to enroll at least four members in FratMANers in the spring 2015 semester and create a FratMANers chair position.
"Meaningful change can take time, and it's hard work," Rivera said. "I am very proud of the Greek community leaders for stepping up and having these difficult conversations about analyzing and changing the current culture."