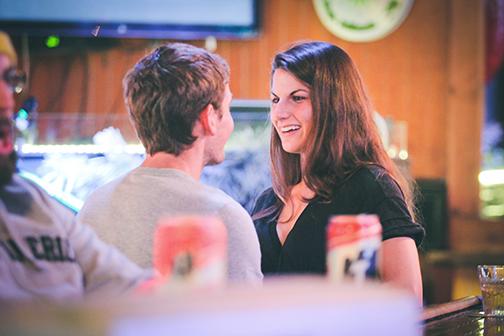 Matt Doran and Kelly Callas have found their happily ever after and it all started within the walls of the musty The Daily Aztec offices. Both 2012 graduates, Callas served as the features editor, with Doran as her predecessor. Initially, she served as assistant features editor to Doran before moving up.
"You made me do all the work," Callas laughed.
"Yeah, I gave you all the stuff I didn't want to do," Doran said.
"Which was like everything," Callas replied.
From colleagues to couples, this pair has stood by each other for the past three years. Doran graduated with his MFA in creative writing, while Callas graduated with her B.A. in English. Both were drawn to journalism, yet now Doran is launching a startup and Callas works at a marketing firm. However, both Doran and Callas were reminiscent of their years at San Diego State and, most importantly, their time spent at The Daily Aztec.
The couple got engaged this past December at the Red Wing bar — and The Daily Aztec was there to capture the moment.
"We first told each other 'I love you' there with a bunch of (Daily Aztec) friends there, so he brought it full circle," Callas said.