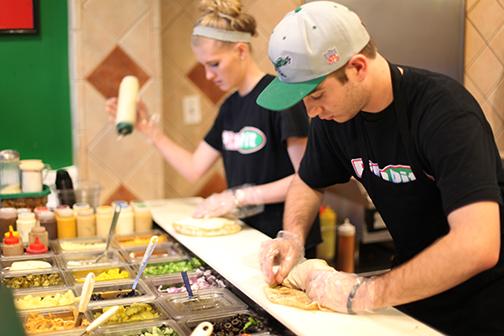 David Hernandez, News Editor
The story was updated at 5:00 p.m.  
The off-campus eatery Pita Pit will no longer operate after Saturday, Jan. 31.
"We never reached our full potential here," co-owner Ed Espinoza said. "We envisioned a lot more."
Espinoza, who took ownership in 2010 alongside longtime friend Mathew Shaffer, said his business fought repeatedly to be added to the San Diego State meal plan but was unsuccessful, which made it difficult to maintain sales.
"Our access to campus was limited," Espinoza said.
R.D. Williams, director of Business Development and Contract Housing for Aztec Shops, said a restaurant's menu, location, hours of operation and price must fill a "niche not currently served by restaurants already in the (meal) plan."  He said Pita Pit did not meet the criteria.
Espinoza believes Pita Pit was not added to the meal plan primarily because of Aztec Shops' plans to redevelop the building.
"Whatever they have going on, it didn't involve us in the future," Espinoza said. "I haven't exactly been told what is planned for this building, but the only thing I know is that as soon as we're out of here San Diego State has free reign to do whatever they have planned for this building."
A second phase of South Campus Plaza, which broke ground this semester, is on hold until the first phase is completed and Aztec Shops acquires more property along College Avenue. Williams said Aztec Shops, which does not own the Jack in the Box nor Arco gas station lots, considers property from willing sellers.
Starbucks is the only business occupying space in College Square. Williams said Aztec Shops is considering alternative uses of space in College Square, "but no firm plans have emerged."
Espinoza said other factors that made it difficult to operate include a lack of parking around Pita Pit for community customers and the fact that SDSU students constantly move away to live in other areas of San Diego.
However, Pita Pit did see an increase in sales since 2010, which Espinoza attributes to word-of-mouth marketing. The eatery's ranking on Yelp is four stars, up from 2 and half stars in 2010, Espinoza said.
Pita Pit manager and psychology senior Janiece Giampolo, who began working there her freshman year, said customer service was the most important aspect for Pita Pit.
"Nobody wants to lose their jobs, so it sucks," she said.
Pita Pit supported various Greek organizations as a sponsor for their events. Giampolo said she also reached out to nearby business such as apartment complexes to promote their food.
The Pita Pit near SDSU, which first opened in 2001 as the first location in California, is the only location in San Diego. The eatery has since grown to approximately fourteen other locations in the state.
The SDSU location will close at 10 p.m. on Saturday.