The Olive Oil Cafe: Extra virgins welcome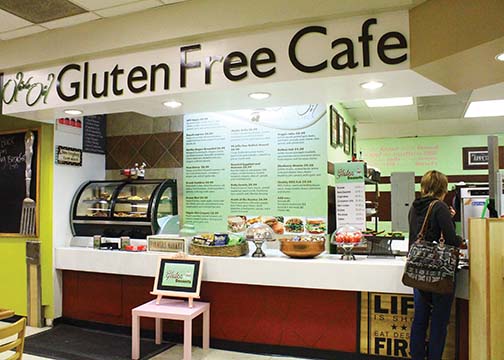 San Diego State offers a variety of different restaurants, fit to satisfy any craving a student may desire. Among the many chain restaurants sits the one and only Olive Oil Cafe, a healthy eatery that continues to out-serve its competitors. After four years, the Olive Oil Cafe continues to prove to be successful and, recently, added a new menu for students.
Vanessa Karmo is the owner and head operator of the establishment, but she doesn't do it all alone. She has an entire team behind her, all of whom are her family. Karmo works with her sister, father, cousin and brother, as well as a few others and together, they cater to every order.
When Karmo was little, she showed an admiration of food and love for cooking. One day, she kicked her mom out of the kitchen and took over. She started cooking and experimenting with different foods at a very young age. Karmo may not have graduated high school, but she always knew what she wanted to do for the rest of her life.
"I ended up leaving high school, which I do not recommend for anybody, and jumped right into college, took a few lame courses, then moved to Europe," Karmo said.
Karmo jumped all over Europe studying different flavors and foods. She learned that Europe has a Middle Eastern influence and vice versa, and is using that practice in her kitchen today. She considers her style of cooking as fusion food, and students aren't complaining about it.
Finding its niche
In 2004, while Karmo was still in high school, her father was working for the Department of Defense. He ended up leaving to the Middle East, but before he left, he bought Karmo and her sister a healthy food store in Imperial Beach.
Karmo and her sister soon realized maintaining a store was a job easier said than done. In 2006, they decided to downsize and purchased a smaller unit in order to continue their business. The Olive Oil Café was born inside as a restaurant within the store.
Not only were they selling organic food, but Karmo and her sister started cooking healthy food options using the same ingredients they sold in the store. They ended up establishing a clientele of cancer and AIDS patients by catering to their rigid food restrictions.
"We started creating specialty desserts and food we learned growing up in the Middle East," Karmo said. "We grew up eating a Mediterranean diet, one of the best in the world."
The Olive Oil Café was an overnight success for Karmo and eventually led her to the SDSU Farmers Market five years ago. She dedicated her Thursday afternoons to serving students and, with the help from just two other people, they caught SDSU's attention.
"SDSU approached me about opening something on campus," Karmo said. "When I first said yes, they wanted to be strictly vegetarian and I did it. We killed it. It wasn't until recently that we added the meat and now we have the gluten- free menu."
From healthy to healthier
The gluten-free side of the restaurant is run and operated by Karmo's sister, Frances Quintanilla, a self-taught pastry chef. She learned to cook delicious pastries, and learned do it gluten-free as well.
The difficulty of cooking gluten-free food is creating dishes from scratch and with no gluten, sugar, dairy or soy.
The real issue is cross-contamination. Gluten-free food cannot be made or stored in the same place as regular food, which is challenging for most chefs. However, Quintanilla and Karmo believe the hard work is worth the satisfaction of the customer. Within the first few weeks of operation, the gluten-free menu has proven to be a success.
The Olive Oil Cafe extended its menu and added sandwiches and desserts for their gluten-free guests. The need for a gluten-free menu developed from the students themselves asking for healthier food options on campus. The Olive Oil Cafe saw the opportunity to expand and ran with it.
When guests become family
For Karmo, she treats her business the same way she would treat a relationship. She believes that guests deserve the respect and attention she would normally give a partner or family member, which is exactly why the foundation of her restaurant was built on family values.
"It's those little things that matter," Karmo said. "It's the little things that you do for people that make them want to come back."
Since the Olive Oil Café introduced the gluten-free menu at the end of last semester, the café has now put two restaurants out of business: Taco Bell and Sushi Do.
"At the end of the day, we're not fast food, we're real food and that matters," Karmo said. "Places like Sushi Do and Taco Bell, it's a job for them. For me, it's my life."
Karmo plans to continue treating her guests as she would her own family, not only with her service but also with her food. In addition, she also guaranteed an evolving menu.
"I had great exposure to this fabulous produce and as you grow and learn, you start to listen to what the food tells you," Karmo said. "I know it sounds cheesy but it's true."
With popular food items such as the Atomic Grilled Cheese sandwich, Karmo hopes to continue surprising her guests with unique dishes and changing menu. However, regular guests know the secret menu is where Karmo shines. She enjoys making food for her guests to enjoy that is not an obvious choice.
Karmo has repeatedly expressed her love for every guest that comes to her restaurant, both new and returning. She wants to continue going that extra mile for her guests.
"If we're closed, I will turn everything back on for that one last student," Karmo said. "I'm not going to ever send anyone away. If you don't have any money that day, keep the sandwich and pay me later. No one else is going to do that."