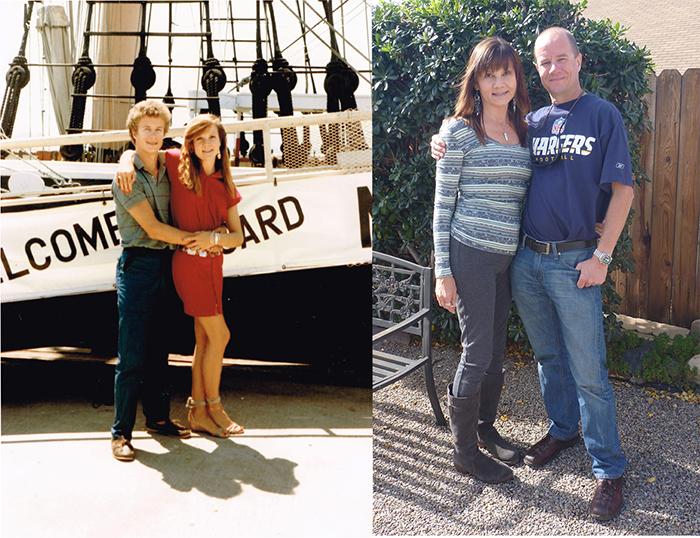 Courtesy of the Smiths
It's debatable about what brought Andy Smith and Julie Bennett-Smith together in the fall semester of 1983. But regardless of whether it was because of the natural science course they took together in Hepner Hall, or because of the handwritten note he passed her in the hallway outside of it, meeting at San Diego State changed the couples' lives forever.
Andy Smith majored in Aerospace Engineering and was an affiliate, and later president, of Sigma Gamma Tau Honors Society.
"I may have graduated in Aerospace Engineering but I have never worked on a plane in my life," Smith said.
Julie Bennett-Smith was originally from Paramus, New Jersey before moving to San Diego in her teen years. Bennett-Smith commuted about 25 miles to school and majored in fashion merchandising and was an affiliate of Phi Epsilon Omicron Honors Society. She now works as a consultant. Both graduated in the spring of 1988 with bachelor's degrees from SDSU.
"At the time tuition was only $250 dollars a semester, and when we graduated it was $450 dollars a semester, which we thought was insane," Bennett-Smith said.
"SDSU is much more prestigious now than it was when I went to school in the '80s," Smith said.
Smith first met Bennett-Smith in the natural science general education course, which at the time was held in Hepner Hall.
"It was my third semester of college, I had not dated my entire first year, and I decided to go for it this semester," said Smith. "When the first class started, I had actually met another girl, and we had hit it off. But later out of the corner of my eye, comes this pair of legs through the door; and I just said to myself, 'Aw man I blew it! I should have waited!'"
Throughout the semester Smith kept trying to meet Bennett-Smith, but couldn't as she always came to class late, and left right as the class ended.
"I decided to give her a note," Smith said.
"He handed me this note in the hallway, as I was unusually early to class, and he didn't expect me to be waiting for the door to open," said Bennett-Smith. "He hands me the note and I read a couple of sentences, then turn it around to see who it was from because I had thought someone had given the note to him to give to me."
"I was the messenger boy! I was the messenger boy for the note," Smith said.
"He likes to over exaggerate that fact," Bennett Smith said. "All I said at the time was that I was flattered. But he had left his phone number and I did end up calling him later on, and on a home phone! We didn't have cell phones back then."
"In class I had seen him and thought he was attractive but I do remember we were doing an experiment in class about distilling water. I was next to him and he looked at me and said, 'Excuse me, could you not touch that it might contaminate my experiment,'" Bennett-Smith said. "I mean we were distilling water!"
"What a jerk, that should have been a red flag for you," Smith said, laughing.
Smith and Bennett-Smith have been married 23 years this May, but have actually been together 32 years in total. "We're so lucky because we're like soul mates —  it sounds corny but it's true," Smith said.
One year after their wedding, Smith and Bennett-Smith had a baby girl named Cheyenne Smith, who is now a kinesiology senior st SDSU. Nine years after the birth of their first child, Smith and Bennett-Smith also welcomed a baby boy named Caleb Smith, who is now 12 years old.
"Kids are a lot of work, but we love them," Bennett-Smith said.
Their secret for staying together in a relationship is compromise.
"To stay together in a relationship you have to be able to compromise and also look at the big picture," Smith said. "You have to let the other person have their process and not judge it, which is hard to learn to do," Bennett-Smith said. "Being in love when you're 20, is nothing like being in love later on in life."