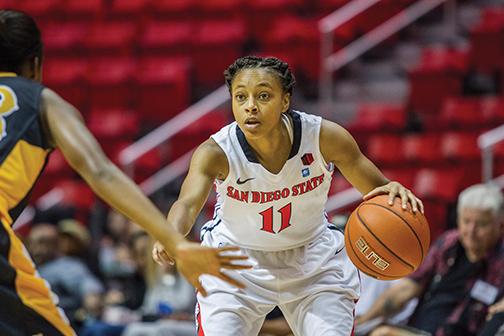 Chadd Cady, Staff Photographer
The San Diego State women's basketball team defeated Utah State University 70-59 Saturday afternoon in Logan, Utah.
It was just the second road win of the season for the Aztecs. They have not won on the road since beating the Air Force Academy Falcons on Dec. 31.
SDSU and Utah State exchanged the lead six times in the first half, but the Aztecs were able to take control with a 33-28 lead at the midway point.
The Aztecs would hold that lead for most of the second half. However, the Aggies narrowed the lead to just three with a little over seven minutes remaining in the game thanks to a 12-2 run.
Redshirt-junior forward Erimma Amarikwa took matters into her own hands, though, and widened the gap by scoring six consecutive points to fuel a 16-6 run.
While the Aggies cut the lead to single digits in the waning minutes of the game, the Aztecs would prevail for the victory.
Amarikwa led the team in points with 17, even though she had just four at halftime.
Her nine made free throws were also a deciding factor in helping to close out the game.
Freshman point guard McKynzie Fort was right behind her teammate with 15 points, and she also helped in clinching the game for SDSU by hitting a crucial layup with less than two minutes left.
Senior forward Khristina Hunter did her job cleaning up on the glass and led the team with seven rebounds.
She also scored 11 points, which made three Aztecs who scored in double digits.
Utah State out-rebounded SDSU, though, by a margin of 43-38.
The Aztecs (7-13) have struggled this season but have had better luck in Mountain West play where more than half of their wins have come (4-5 in conference).
With a win on Saturday the Aztecs snapped their two-game losing streak and have the chance to win two regular season games in a row for the first time this season.
SDSU will face off against a University of Nevada, Reno (6-13, 2-6 MW) team that has had struggles of its own this season.
Not to mention, the Wolf Pack is in the midst of a six-game losing streak.
Another thing that works in the Aztecs' favor is that the game will be played at Viejas Arena where the team is 4-5 this season.
SDSU is currently in seventh place in the MW standings and have a long way to climb to match California State University, Fresno (17-3, 9-0 MW).