Forbes lauds Pura Vida founders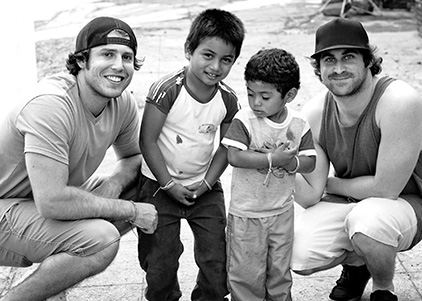 San Diego State alumni Griffin Thall, 28, and Paul Goodman, 26, were recently named part of Forbes 2015 "30 Under 30" for the success of their brand Pura Vida Bracelets.
Thall said the two met in high school and continued their friendship throughout their time at SDSU. The inspiration for Pura Vida came from a post-graduation trip they took with friends to Costa Rica.
Thall said the phrase "Pura Vida" means "pure life" in Spanish. "Pura Vida" is a popular saying in Costa Rica similar to what "aloha" is in Hawaii.
While  in Costa Rica Goodman and Thall bought 400 handmade bracelets from a local vendor to bring back to California to sell to friends and family.
Since then the company has grown into a multi-million dollar brand, landing Goodman and Thall on the "30 Under 30" list.
Thall said he was driving to a meeting in Los Angeles when he received a call informing him that they made the list.
"Paul and I were blown away," he said. "It was like, 'Whoa! We've been recognized by the business leaders of the world.' It put us on the map."
Despite the company's growing success, Pura Vida still strives to treat their newest costumer with the same respect and attentiveness as their first costumer, Thall said.
A huge part of Pura Vida's success can be attributed to the company's involvement with various charities, according to Bernhard Schroeder, the SDSU Lavin Entrepreneurship Center director.
"They understand the millennial generation is leaning into social causes," Schroeder said.
Pura Vida currently works with 166 different charity organizations. There is a wide range of charity organizations customers can choose from, ranging from animal awareness, environmental causes, medical conditions, memorials, military service and more.
Pura Vida has donated over $310,000 to their charity partners so far, according to its website.
Thall believes another factor to the brand's success has been their strong online presence, along with word of mouth. Various celebrities have been photographed wearing the Pura Vida bracelets such as Rihanna, David Beckham, Rachel Bilson and Robert Downey Jr. This has helped the brand reach out to the celebrities' large fan bases.
Pura Vida also remains active on various social media sites, which has allowed them to stay current and reach out to a wide range of costumers.
Goodman and Thall's success and recent Forbes recognition has become a source of inspiration for some students at SDSU.
Paul Johnson, a business senior and member of the Entrepreneur Society at SDSU said Goodman and Thall have become a source of inspiration for him in his personal entrepreneurial pursuits.
"They come back and you see they are just two normal guys who had an idea and ran with it," Johnson said. "They show you how possible it is to take something small and turn it into something big."