New app keeps your phone in your pocket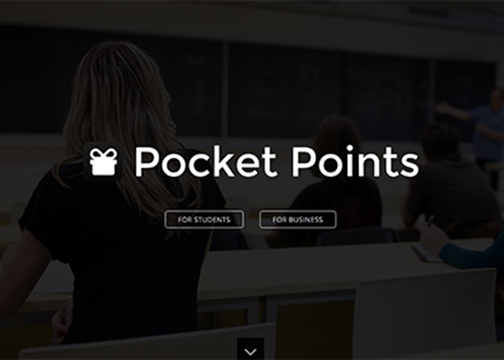 A notable fact about college students of this generation is their physical and emotional attachment to mobile devices. Students always seem to be talking, texting or discovering the latest apps on their phones — even during class time. But a new app has recently surfaced on the San Diego State campus that encourages students to break the addiction to their mobile phones.
Pocket Points, an iPhone-only app dually founded by Rob Richardson and Mitch Gardner, rewards students with coupons at local businesses for not using their phones during class time. Students that have the app downloaded onto a mobile phone can open the app, lock their phone and just like that begin earning points towards coupons at local businesses.
Environmental engineering junior Lauren Breitenbach watched Pocket Points come to life at a family dinner with her cousin and founder Rob Richardson.
"I wanted to be a part of the process that I had seen my cousin create, so this semester I became involved with the company as a sales representative and began signing local businesses," Breitenbach said. "I've gone door to door with local businesses like Cold Stone Creamery, Social Life Pizza and Smash Burger to name a few, and now there's a total of 10 businesses on board."
SDSU is one of the first 10 schools to have access to the Pocket Points app after it launched at Chico State last semester.
"A third of Chico State's campus has started using the app within only one semester of it launching," Breitenbach said. Other schools such as Penn State, University of Michigan and University of Arizona are also involved with the Pocket Points Company.
The app is free for students to use and gain points, whereas businesses get students in the door by offering coupons through the Pocket Points app. Businesses are the sole designators of the coupons and their worth.
"Pocket Points does not take any percentage of the profit from businesses," Breitenbach said. "The app is currently free for businesses, but that will change next semester when we begin to charge businesses for the use of our service."
However, local businesses still have time to sign up for a free trial run of Pocket Points this semester.
"Having the app downloaded is just a win-win-win for everyone involved," Breitenbach said. "Students are gaining great deals, businesses are gaining consumer traffic, and teachers love it because students are not using their phones during class time."
"I actually just found out about it, but I love it because I try to stay off my phone in class anyway and knowing I get points toward food is great motivation," child and family development senior Alli Heer said. "I've started keeping my phone in my pocket most of the day and it's nice to not have my face glued to it all the time. I feel like I'm more in the moment."
Pocket Points uses a geo-locator to tell when the student is on campus, or in a classroom. After the device figures out where the student is, points are earned as long as the phone is locked. The more students are using the app on campus, the more points can be earned in a shorter amount of time.
"It's in every students benefit to have Pocket Points downloaded on their phones," Breitenbach said.
Pocket Points plans on expanding to other colleges around the nation, as well as high schools in the near future.
"We've put out a notice for more sales representatives at other schools, and after only a short amount of time we've already received over 500 emails from students throughout the country that want to be sales reps for the company," Breitenbach.
Though Android users will have to wait until the app has been converted for their phones, thanks to Pocket Points there is now an app for iPhone-owning SDSU students who want to earn points for not using their iPhones while on campus.