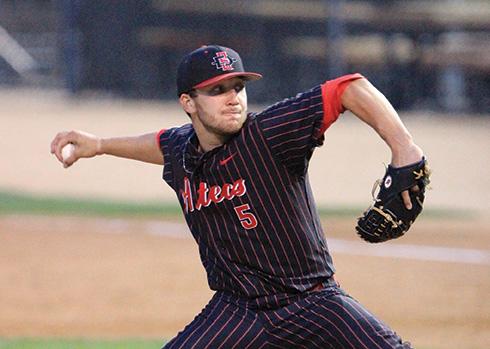 Nothing is certain as the San Diego State baseball team enters its 2015 season. But if there's one thing they do know, it's that the Aztecs are not going to take their eyes off that College World Series prize.
The Aztecs will host the University of Valparaiso this weekend in a three-game series to start off the regular season. This will be the 79th season of play for the Aztecs who finished last season 42-21. In addition, the team also earned a Mountain West Tournament title and made an appearance in an NCAA Regional Tournament.  After having time to process where they fell short last season, the Aztecs made sure to use the offseason as a time to prepare both mentally and physically for this spring. With every school vying for the same end-goal, junior outfielder Spencer Thornton said the Aztecs will have to work hard if they want to win against Valparaiso this weekend.
"There are no easy wins in college baseball," Thornton said. "Every game our team has to go out there and play to our best ability. If we play like we should, we should also be a tough team for Valparaiso to beat."
Valparaiso finished the regular 2014 season 12-12 in conference and 25-28 overall.
Thornton said that although the Aztecs have set high standards for themselves, he believes they have the ability to achieve their goals.
"I haven't head much about Valparaiso, but just like any other team we have to respect them," junior outfielder Seby Zavala said. "That being said, I believe if we play to our ability the way we should there is no doubt that we will come out on top of all three games."
The Aztecs added 11 freshmen  to  their 41-man roster  this season. Additionally, two members of the SDSU football team, defensive back Trey Lomax and linebacker Calvin Munson, will also play on the baseball team this season.
"We have a lot of new guys that may have played a lot but haven't play everyday," first-years head coach Mark Martinez said. "I think that's the biggest challenge and now that they're in an everyday role they're going to have to learn how to manage the successes and the failures."
The first game of the series is scheduled for 6 p.m. on Friday at Tony Gwynn Stadium. The Aztecs will spend this week honoring the late Gwynn with a series of events including a pre-game ceremony where they will retire his jersey.