Aztecs honor Tony Gwynn in win vs. Cowboys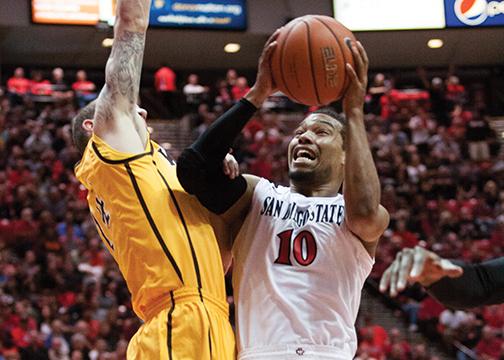 The San Diego State Aztecs (19-6, 9-3 Mountain West) beat the University of Wyoming Cowboys (19-6, 8-4 Mountain West) 67-41 on Wednesday night to take sole possession of first place in the MW Conference. SDSU is now a half game ahead of Boise State University and a full game ahead of Colorado State University and Wyoming.
Senior guard Aqeel Quinn and junior forward Winston Shepard led all Aztec scorers with 18 points each on a combined 13-23 shooting from the field. Quinn, who was just 2-10 from the field in Sunday's loss at Boise State, rebounded nicely after missing Monday and Tuesday practices with knee soreness according to head coach Steve Fisher.
"We all had a sour taste in our mouth," Quinn said regarding the loss to Boise. "I know I wanted to play right after the game was over in Boise. I wish we could've played the next day, honestly. But that rest, the couple days and during practice — I was just ready tonight."
Quinn was 4-5 from beyond the arc after combining to go 0-7 in the two games prior. He also dished out three assists and pulled down three rebounds in just 18 minutes of play.
Senior forward Derek Cooke Jr. led all Wyoming scorers with 13 points on a perfect 6-6 shooting night. Cooke Jr. also totaled a team-high six rebounds. Junior guard Josh Adams added 12 points of his own along with five rebounds and three assists. MW Player of the Year candidate, senior forward Larry Nance Jr., did not travel to San Diego with his team due to illness.
"They missed terribly Larry Nance," Steve Fisher said. "It's obvious for all of us. Larry Shyatt is a good friend and a terrific coach and he's playing with a tank that's not filled the way it was when we went there (to Laramie) and they were arguably as good as, if not the, best team in the league."
The Aztec defense made it tough for the Cowboys to shoot, especially from 3-point range. The Cowboys managed to convert only 17-48 shot attempts including 3-26 from deep, which is a marked defensive improvement from the 10-24 clip they allowed the Broncos on Sunday. Due to the activity from SDSU on the defensive side of the ball, Wyoming didn't record its first offensive rebound until the 10:18 mark in the second half.
The SDSU basketball program paid tribute to the legendary Aztec Tony Gwynn who passed away from cancer this summer. The celebration kicked off with a highlight montage of Gwynn during his time as the Aztecs' point guard from 1978 to 1981, and the team warmed up in black t-shirts dawning the number 24, which was Gwynn's number on the hardwood.
Gwynn's son, Tony Gwynn Jr., led "The Show" in the "I Believe" chant and his daughter Anisha Nicole performed the national anthem. The SDSU baseball program will honor its former player and coach by retiring his number 19 before its home opener on Friday night at Tony Gwynn Stadium. First pitch is at 6 p.m.
SDSU will regroup and prepare for a Valentines Day date with the Colorado State University Rams on Saturday at 3 p.m. The Aztecs are hoping to avenge an earlier 79-73 loss at the hands of the Rams who are trailing close by in the conference standings.