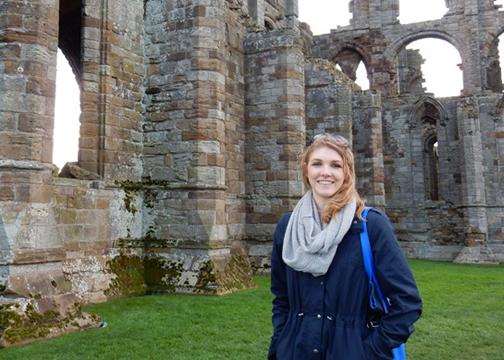 Courtesy of Jane Sanders
If students were asked to compile a list of their favorite things about San Diego State, it's likely the study abroad program would be many students' lists. Studying abroad gives students a chance to learn, gain class credit and experience other cultures all around the world.
For art senior Jane Sanders, studying abroad at the University of Sunderland in England for the fall semester was a dream made a reality.
"I've wanted to study in England since I went there on a school trip my senior year of high school," Sanders said. "My favorite part about being in another country is meeting new people and making new solid friendships."
But before studying abroad, there a few things students should know about their host universities, costs and student visas. Sanders recommends that students traveling abroad create a budget for their trips and always have extra money on hand just in case.
"Do plenty of research on the university where you will be studying — what kinds of activities are sponsored and what the facilities and accommodations are like," Sanders said. "I didn't know if I was allowed to travel internationally with the student visitor visa, so I didn't travel outside the U.K. — but found out afterward that I could!"
Sanders created a travel blog to document all of the adventures in England without having to carry a physical journal that had the possibility of getting lost or stolen. The blog consisted of a basic destinations log, accommodation adjustment, university life, transportation and food.
"It's difficult to choose one, but my favorite blog post would have to be the post about Oxford," Sanders said. "Going to Oxford was something I'd wanted to do for years, it's a fascinating city!"
Depending on the major and goals of the student traveling abroad, there are many aspects to consider. A student could have limited choices on universities based on the intended degree.
"My host university had a small, relaxed feel. It was great to have a newly-updated building dedicated solely to a design program, small class sizes let me make friends easily," said Sanders. "The accommodation was generous. I loved having my own room and living in an apartment-style structure."
Although there were many wonderful aspects of attending a university in another country, there are some aspects that are less than wonderful.
"The administration department was a bit unorganized, to be honest. The university accommodation I stayed in was in a 'rough' part of the city," Sanders said. "The university is split into two campuses about a 15 minute bus ride apart, and I didn't like the separation — I would have liked to have had more interaction with other students in more programs."
Eventually, every study abroad experience must end and students must return to their home school and country. Every student has a different experience with loads of stories to tell. It varies from student to student, but the one thing students have in common is an aspect of the culture that they miss.
"I miss the British charm and friendliness. I miss the ease of transportation, a logical currency system, and of course, the afternoon tea and scones," Sanders said. "Coming home is a bit of a reverse culture shock.