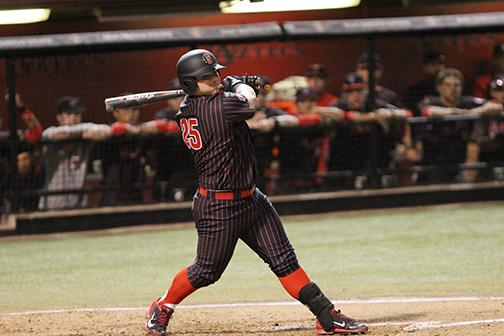 Sarah Smith, Staff Photographer
The San Diego State baseball team will face off against its conference rival San Jose State Spartans in a three-game series this weekend. It will be the first of two three-game series between the two ball clubs this season.
The Spartans currently hold a 4-4 overall record. The series this weekend will be both clubs' first batch of Mountain West action this year.
Head coach Mark Martinez stressed the importance of having success against conference opponents.
"Being a conference series, obviously there is a heightened importance to not only each game, but each pitch," Martinez said. "The biggest challenge is to make sure we get off on the right foot in the conference."
The Aztecs enjoyed success against the Spartans last year, winning five of their seven meetings, which included a 15-1 trouncing in the MW Tournament in Las Vegas. However, Martinez noted that SDSU faces a bit of unfamiliarity against this year's Spartans team.
"San Jose State is going to come at us with a pretty good pitching staff and a lot of new guys offensively," Martinez said. "We really don't know what to expect compared to last year."
Martinez spoke highly of San Jose State senior pitcher Kalei Contrades and senior outfielder Andre Mercurio, who had success against SDSU last season. He also mentioned sophomore outfielder Brett Bautista, who has been the hottest hitter in the Spartans' lineup.
Through the first five games of the season, Bautista has posted a .467 batting average, with two doubles and three RBIs on just seven hits.
The Aztecs have gotten off to a good start. They are 8-1, with their only loss of the season coming to University of California, Riverside last weekend.
Much of the team's success can be attributed to its pitching staff. Junior pitcher Bubba Derby, sophomore pitcher Brett Seedburger and junior pitcher Mark Seyler will get the starts Friday, Saturday and Sunday, respectively, after impressive starts last weekend.
"We feel we have one of the better starting rotations in our league," Martinez said. "Hopefully they continue to perform as they are capable, and hold those guys down a little bit so we have an opportunity to score some runs."
The bullpen has stood its ground as well, having done a solid job at backing the rotation up if needed. It was even awarded recognition this week when sophomore pitcher CJ Saylor was named the MW Pitcher of the Week after picking up three saves.
"We put a lot on our bullpen," Martinez said. "We have guys who have had multiple appearances, and have come in just about every single game to either face a batter or win an inning."
The pitching staff isn't the only aspect of the game that has been hot for the Aztecs. The offense has scored 69 runs through the first nine games. They have been led by the bats of junior infielder Tyler France and senior outfielder Steven Pallares, who are both batting .400.
"All of our guys have been around a little bit," Martinez said. "They've played a lot of Division I baseball, they understand how to manage a game and manage their at-bats, and they're hitting pretty good right now."
Although his team is enjoying a hot start, Martinez recognizes there is always room for improvement, and he understands that the long season is young. He knows the series against the Spartans is just the beginning of a long road through the MW.
"Right now, going into San Jose State, we're 0-0," he said. "So we have to get off to a good start in the conference."