Beachside bar offers more than the view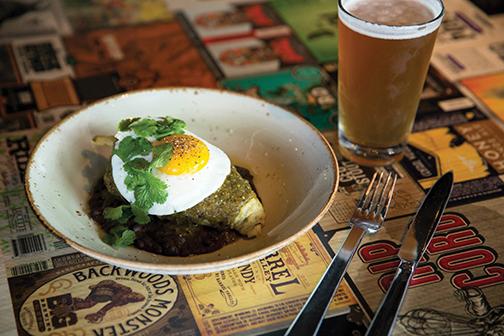 Draft, a bar located at Belmont Park on the Mission Beach boardwalk, perfectly pairs the surf and sand with craft beer and good food. With a large open area and tons of outdoor seating, practically any table has a great view of the bustling boardwalk and beautiful beach sunset.
The immediate environment appears loud and crowded, but once seated, it's clear the restaurant is fun, popular and clearly busy serving up some delicious food.
The outward facing walls are open glass, while the inside is focused on the large flat screen TVs perfectly positioned for game days. Sports fans can see a TV screen from any seat in the restaurant and even while passing by on the boardwalk. The tables are covered in a variety of draft beer labels following the overall beer theme of Draft, which has 69 beers on tap.
Breakfast, lunch and dinner are served seven days a week, and brunch is offered on weekends. The buffalo wings under the "share" section of the dinner menu are a sure way to bring some heat to your meal for $12. The thick wings are coated in a spicy sweet sauce served with carrots, celery, and french fries crusted with parmesan cheese.
The kale salad is another good dish to share, providing a lighter dish and the opportunity to be part of the kale obsession. The salad, $11, is sprinkled with goat cheese, beets, deliciously crispy prosciutto, sweet honey dates, red onions, crunchy cashew brittle and topped with a citrus beet vinaigrette. It is a perfect beach-side salad, both filling and light.
The "grill" section of the dinner menu is where the restaurant really proves its culinary talents. The Draft burger, $15, is stacked high with lettuce, tomato, onion, mayo, cheddar cheese and a pickle. The burger is cooked to perfection and the bun is warmed but not too crispy or dry.
Draft has an amazing environment: The beach, sports scene, beer, food and people all help make this spot an awesome game-day venue or a relaxing sunset hangout.