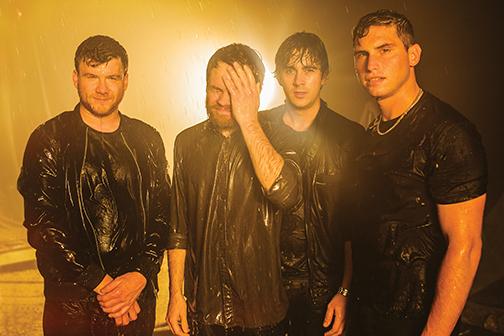 Courtesy of Tom Martin
Fans of life music generally look forward to a band's tour following a recent album release. So with the release of "The Mindsweep" by Enter Shikari, fans are already looking forward to the band's return to San Diego on April 24 at Soma.
For those unfamiliar, Enter Shikari is a band that's hard to categorize. During the course of four full albums, their sound has gone in different directions every release. In general, they fuse rock, punk, hardcore and metal genres with elements of dub-step, trance, electronic and hip-hop.
"We've always been a band to ignore genres and do our own thing," drummer Rob Rolfe said. "We gather inspiration from all over the place. I don't think any of our fans know what to expect from us."
A setlist for a London show reveals that Enter Shikari played some of its softer songs such as "Stalemate" and "Dear Future Historians …" all the way to the heavier , chaotic songs such as "Slipshod" and "Gandi Mate, Gandi."
According to Rolfe, the setlist will resemble the tour in the U.K. So there may be some variation, but fans can likely expect around 16 songs (encore included).  For Rolfe, the most fun song to play off "The Mindsweep" is "Torn Apart." Its jungle-type beats and ghost beats took a while to learn and it's rewarding to pull off live.
A good portion of the setlist was from "The Mindsweep" and "Rat Race EP." This is common for new releases, especially since how long it's been since they last performed at San Diego.
It's been almost three years since Enter Shikari last played in San Diego, but Rolfe still remembers Soma and the crowd.
"The audience always goes so crazy," Rolfe said. "There's an atmosphere in that venue that you don't get in many others."
Enter Shikari has won awards for the live talent. It won Best Live Band during the 2007 Kerrang Awards, and The Association of Independent Music awarded them the Best Live Act Award of 2013.
"I think we have a connectivity with the audience that a lot of bands seem to miss," Rolfe said. "A lot of bands think they're two separate things. It sounds cheesy, buy the audience is like the fifth member of the band … If were not enjoying it, the audience notices. They feed off each other."
It's always a sight to see the light shows and Rou Reynolds (lead vocalist) flawlessly switching from singing to keyboards  From previous shows, I've even witnessed Rory Clewlow (guitarist) climb onto Chris Batten's (bassist) shoulders mid song. While that sounds crazy, it pales in comparison to some moments Rolfe has seen.
Rolfe said the group was playing at a pier in England and there were some amusement park rides nearby. Batten left the stage, got strapped in the equivalent of the Drop of Doom, bass in hand and continued playing the song as he rode it.
Regardless of all the fun that's had onstage, most of Enter Shikari's songs have various social, economic and political messages, which is good for nourishing the mind of a college student slamming out a 10-page essay in one night.
Enter Shikari will be headlining the concert at Soma's sidestage. Stray From The Path, A Lot Like Birds and I The Mighty will also be playing before them. Tickets cost $16 and it begins at 6:30 p.m.
"We're certainly looking forward to it," Rolfe said. "We've made a lot of friends all over (the U.S.), it's a very welcoming place."